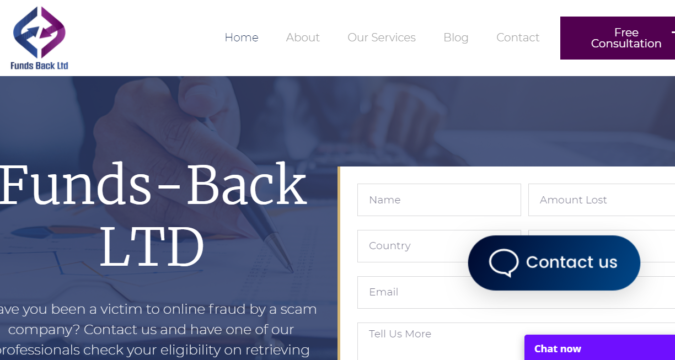 Funds-Back.com Review
It is a pitiful situation that people can lose money in so many ways today. There was a time when you could not have even thought of trading or investing your money in anything from the comfort of your home. Today, you can do that and it's not a dream anymore. However, this has also provided the bad guys with the opportunity to fool people into shelling out their hard-earned money. Because of the increasing number of such deceptive services, the market saw the emergence of funds recovery services. Among many other, you had Funds-back.
This service has been around for some time, and from my introduction, I am sure you know what this company does. Yes, the purpose of its existence is to provide you with the help of getting your money back from online frauds and deceptive brokers on the internet. Despite this attractive pitch, Funds-back was not able to impress me with its services. Let's dive into the details.
No Clear Indication of Services
The first thing that has disappointed me about Funds-back is that it never explains what services it provides. You see, the reality is that I have been a victim of an online fraud. I once signed up with an online trading platform under the impression that I was going to make a lot of money trading cryptocurrencies. In fact, I was promised that I could not lose money because the trading platform was supposed to be nearly 100% accurate with its predictions. Well, turns out, none of it was true. There was not trading platform and I was not going to make any money. I had fallen into the trap of an online scammer.
When I started researching companies that could help me get my funds back, I stumbled upon Funds-back. To tell you the truth, I was not impressed. At one point, I thought this company could help me. However, when I looked at the services it provided, I was confused. I just thought I was never going to get any help from the company. Later on, I realized that the company was designed specifically to help with the situations that I was in.
No Real Experience
I can tell you right from the website that the company does not have any real experience of helping people with their funds. I can tell from the websites of the services how good or bad they are. If you are a company that has been in a particular business for many years, you have the right to brag about that on your website. However, I saw nothing of that sort on the website of this service. It just tells you that it can help you get your funds back but never really tells you its success rate. Even online lawyers mention their success rates on their websites before they ask you to call them.
Their success rate shows you if you stand any chance of winning your case. Do keep in mind that disputing a transaction on your credit or debit card is more like starting a case. If the people with you have no idea of what's happening, they will not be able to help you at all. You are highly recommended to sign up with companies that have some experience of getting people their money back. That's not the case with Funds-back.
No Preventative Services
I understand that Funds-back is in the business of helping you get your money back. You can lose your money in many ways when you are on the internet. You sign up with a fraudulent online broker, and the money that you put in your trading account will be gone. You sign up with a broker without confirming about its regulation, and you might see dozens of different fees and service charges going out of the money that you have deposited in your account. The broker will never tell you about those charges. At the same time, you might see a great product on the website and receive a broken and defected one upon ordering.
There has to a service that can help you with more things than just getting your money. How about stopping you from making the mistake of signing up with the wrong people in the first place? There are many money back services that help you gain the knowledge that can help you for life in avoiding frauds and scammers.
No Good Customer Support
I have to tell you here that you will not get much from the company when you look at its customer support. It is weird that it has not worked on something that matters so much in funds recovery services. How can you trust a company that does not have good customer support? So, when it comes to the customer support, you will not get much on the website. I have seen that most other companies provide you with the answers to a lot of your questions right on the website in the FAQs. There are none on this website.
Furthermore, you will not get any help when you call the company. The people on the other side seem to be agitated at all times. They usually repeat scripted words that are of no help in your situation. When you call them for specific issues and seek specific answers, you are disappointed the most. What you get in response are some canned responses that seem like they are coming from a bot. All in all, the customer support from this company is not that great.
Final Thoughts
I think you should spend as much time as possible before you pick a funds recovery service on the internet. It is important that you pick the right one because it is your hard-earned money on the line. If you go in the wrong direction, you will lose the money. I think there are many other services that you can find on the internet if you search for them. You have the liberty to research Funds-back more if you want. It's just that its services were not that impressive to me.