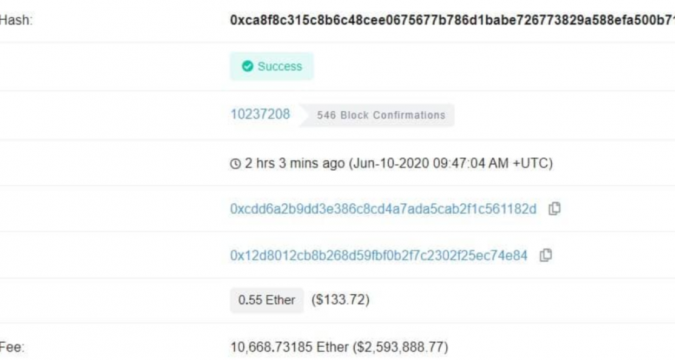 One of the highest transaction fees has just been paid by someone on the Ethereum network for just one transaction. Reportedly, someone has paid a massive $2.5 million worth of ETH in transaction fees to make a transfer on the Ethereum network. 
Surprisingly, the amount that has been transferred is lower than the transaction fee paid on the network. This is one of the record-breaking fees paid in history however such kind of crazy fees have already been paid in the past.
Sender pays 10,668 ETH in fees to transfer $130 worth of ETH
Recently, according to the report of Etherscan, an unknown person transferred 0.55 ETH to an anonymous wallet on the Ethereum network. This amount is worth $130. Though the transaction seems to be ordinary but the fee that has been paid for this one transaction is $2.5 million. This means that the sender has paid more than 10,668 ETH in fees to send only 0.55 ETH.
It has not been known yet who is the sender however looking at the transaction history, it seems that it might belong to a crypto exchange. The address from where the transfer was made still has over 46,000 ETH worth of $11.2 million in the account.
The block number 10237208 which was linked with this transaction actually belongs to the company Spark Pool because they mined this block. The company has come to know about this matter and claims in an official statement that the matter is under investigation and that it will soon find out the real cause.
High Transactions fees paid on Ethereum in the past
This is not the first such example in which we have seen someone paying a high transaction fee on the Ethereum network. A transaction fee of 3150 ETH was paid on the Ethereum network previous year in the month of February.
Apart from this, an amount of 656 ETH was paid in fees on the Ethereum Network when a Synthetics Network Token (SNX) worth $0.00000001 was transferred in the early days of March 2020. The sender addresses were associated with the famous South Korea-based crypto exchange CoinOne.