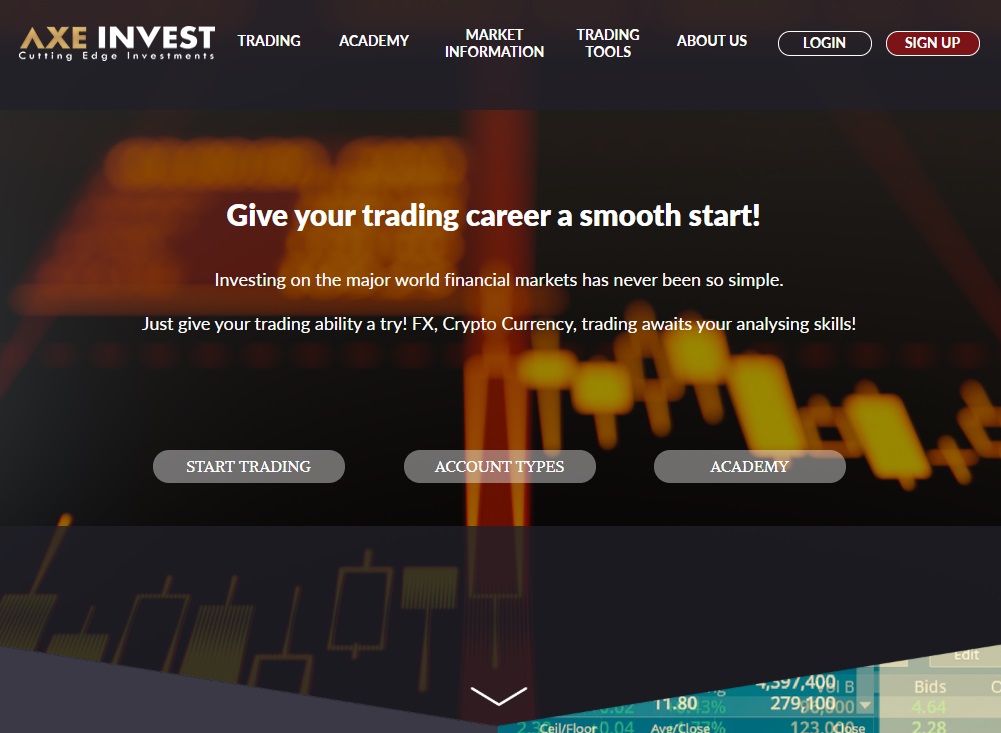 Axe Invest Review
You need a good broker by your side if you want to launch your trading career the right way. Nowadays, the market is full of online brokers, which means you have plenty of choice, but it can also lead to confusion. With so many options, picking one can be immensely difficult because you cannot decide what criteria to follow. Every other broker will make the same claims and this can be quite overwhelming because you cannot decide how to find the right one. One option you will come across in your search is Axe Invest. This is a forest broker that claims to offer its services via web and mobile trading platforms.

Recommended Cryptocurrency Trading Software – With Bitcoin Evolution you can automate all of your trades or carry out manual trading by yourself through the smart program with your broker. The Bitcoin Evolution's type of software has the capability to precede the markets by a notable amount of time, as much as 0.01 seconds, which can bring you huge profits!
A lot of people are attracted towards this broker because it offers high leverage ratios to its customers. If you visit the Axe Invest website, you will see that the broker is offering a maximum leverage ratio of 1:500, which means even the most aggressive traders will be happy. However, what people forget is that such a high leverage also leads to heavy losses. Another reason people consider signing up with Axe Invest is that it has a very low deposit requirement. With a minimum investment of $100, you can open an account, but then again, many other brokers are offering the same.
But, is Axe Invest a good bet? Other information about the broker says otherwise. Let's take a look:
Regulation
The brokerage is owned and operated by a company called Madar Partners LTD, which is based in the Marshall Islands. This is an offshore zone where forex trading is not regulated and its laws concerned registration of firms are very liberal. Therefore, it is a hotspot for scammers because they don't even need to be physically present in the country to register their firm. Marshall Islands is renowned for its lax legal and tax regimes, which means that companies based there are not licensed. Thus, Axe Invest is not supervised by any authority and there is absolutely no regulatory oversight. Trading with such a broker is a major risk because it means your investment is unprotected as there are no rules and regulations, such as segregated accounts, which need to be followed.
If that's not enough, the Australian Securities and Investment Commission (ASIC) has also issued a warning about this broker. It appears that Axe Invest was offering its brokerage services to Australians without getting proper authorization due to which the regulator had to issue a warning against it. This clearly indicates that Axe Invest is a scam because a legitimate broker would have first sought authorization before offering its services.
Trading Conditions
When you check out Axe Invest's website, you will see that the broker offers five account types, which are Micro, Premium, VIP, STP/ECN and Zero Fixed Spread. They have also provided information like minimum deposit requirements, the leverage offered and trading size. But, the worrisome part is that they are vague about spreads they offer with every account option. If you check out the credible brokers in the market, you will notice that they immediately mention the spreads available to traders, but this is not the case with Axe Invest.
The broker doesn't specify the spreads it is offering to traders, neither has it mentioned the commission it charges on the Zero spread accounts. This lack of transparency in the pricing policy of a broker is a major red flag, particularly when you combine it with offshore registration.
Demo Account
Axe Invest does not offer a demo account to its users, which means there is no way for you to take a test drive of the broker and the trading platform it offers before you actually commit to it. This is not a good sign because the broker's location and the fact that it is not regulated is already a red flag. They don't permit potential customers to check out the trading conditions and platforms before making a deposit.
Trading Platform
According to the broker, they have a web-based trading platform that has been developed in-house. From what can be seen on the website, it is a hybrid trading platform that can be used for trading forex as well as binary options. A similar platform is offered by other brokers and it is quite unreliable. Most of the trustworthy brokers offer MetaTrader 4, the industry staple, which has proved its capability over the years. The MT4 is a favorite of traders because it offers custom technical indicators, superior charting and automated trading systems, but Axe Invest has chosen to forego this option, which is a prominent disadvantage of signing up with the broker.
Deposits and Withdrawals
The top brokerages don't usually charge any fee for deposits and withdrawals. But, with Axe Invest, you will notice that the broker charges rather hefty withdrawal fee. For withdrawals via bank wire transfers, the broker charges $50 whereas withdrawals by credit card are subject to a fee of $35. If you choose to withdraw via ePayments, a cost of $25 will be applicable. Apart from that, the broker also has a policy of charging a 10% levy of the withdrawal amount from accounts that haven't been verified or haven't executed more than 200 in turnover. This indicates that the withdrawal charges imposed by the broker are extremely steep and can take a big portion of your profits, which you don't want.
Final Thoughts
From all this information, it can be concluded that Axe Invest cannot be regarded as a good bet. There are no such features that should tempt you to invest with it because it doesn't have a great platform, it is not regulated by a credible institution and is located offshore and there is absolutely no information available about the spreads it offers. To top it off, the withdrawal fee charged by the broker is higher than normal and no availability of a demo account is also worrisome. Suffice it to say, the broker is not a good bet when you want to trade in a safe and secure environment.
Summary
Reviewer
Review Date
Reviewed Platform
Author Rating