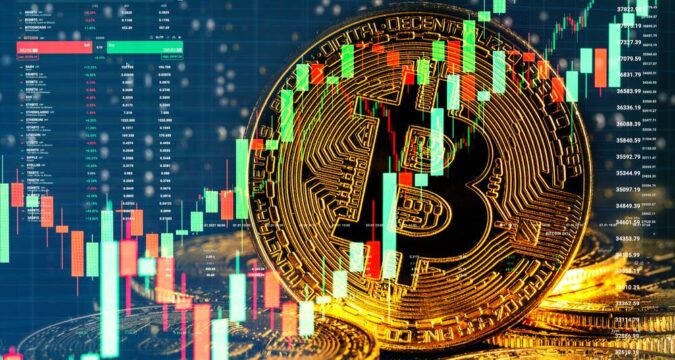 Over the past few days, Bitcoin has seen a remarkable price rise, outperforming gold and making experts increasingly hopeful of the asset becoming the next hedge against inflation. Mike McGlone, the Bloomberg Intelligence Senior Strategist, revealed that the current price action of Bitcoin and its dominance over gold might indicate the start of a super cycle for the leading crypto asset.
The Bitcoin Advantage
McGlone recently emphasized Bitcoin's advantage over gold, including its increasing adoption rate and limited supply. According to the Bloomberg strategist, Bitcoin trumping gold would indicate that a supercycle is already taking place in the crypto space.
He predicts BTC will move from high-risk assets to a more defensive investment tool against inflation and economic instability.
"BTC can be comparable to the KWB banking index, which tracks publicly listed financial institutions and thrift in the United States. It highlights a major strength divergence in favor of Bitcoin," McGlone added.
The Bloomberg analyst explained that comparing relative strength against other assets may foretell BTC's inflection toward becoming a global digital collateral asset and the potential to become valuable like gold and the US Treasury bonds.
Moreover, McGlone noted that he is still determining if the global economy will again experience another period of heavy dollar liquidity like it did in the past. If the dollar liquidity is reduced, this will prompt more investors to inject funds into Bitcoin and other assets like gold and bonds.
He added that the lessons the markets get from inflation, triggered by the rapid and excess "re-liquefication," might stay long in the public's consciousness.
Meanwhile, with the fear of a potential recession still on the horizon, the Bloomberg analyst believes that investors will be more attracted to purchase assets like Bitcoin, gold, and Treasuries bonds during a dip. He said investors would look at these before buying the dip, especially when the global economy tilts toward a possible recession.
Did Bitcoin Pass The Bank Stress Test?
With the crisis rocking the traditional stocks and bonds markets, Bitcoin is on the opposite side of the range. The world's largest crypto asset is rapidly becoming the next haven following the turmoils in the banking sector.
Known as the most volatile asset, BTC finds itself in a healthy standing amid the meltdown in the banking sector that seems to drive the global market toward a looming recession. Bitcoin surged by 21% in March compared to the S&P 500, which has lost 1.4% of its value, with gold seeing an 8% rise within the same period.
The CEO of the digital asset investment firm FRNT Financial, Stephane Ouellette, says Bitcoin is now in a position that pits it against the traditional financial system.