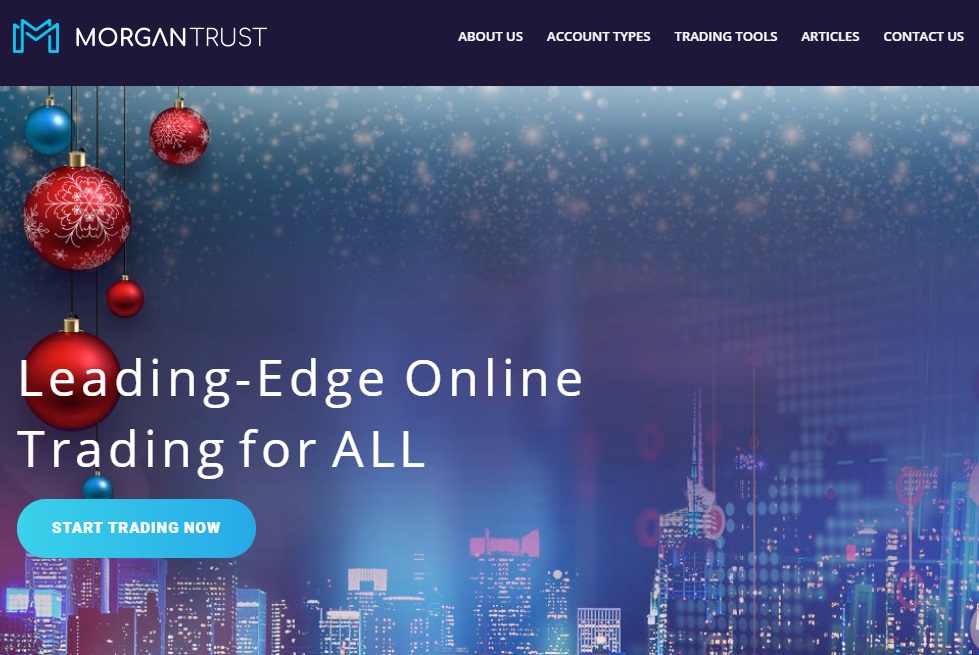 Morgan Trust Review
If you have done any research on trading, whether it is forex, crypto or commodities, you have probably learnt that you need to find a broker to get started. This doesn't seem that difficult, considering the fact that you can literally find hundreds of brokers through a simple search on Google. Finding brokers is not the tough question; the challenge is identifying one that's right for you. This market has more than is fair share of scams and there have been several incidents of people losing their money to scammers masquerading as brokers. You wouldn't want the same to happen to you, but in order to do that, you have to be able to spot a scam.

Crypto Trading Software – With Bitcoin Evolution you can automate all of your trades or carry out manual trading by yourself through the smart program with your broker. The Bitcoin Evolution's type of software has the capability to precede the markets by a notable amount of time, as much as 0.01 seconds, which can bring you huge profits!
The trouble is that scammers have also gotten smarter and they come up with offerings that makes it difficult for people to distinguish them from reliable ones. The same is the issue with Morgan Trust, a forex broker that is registered in Estonia and yet has their operational address listed in Ireland. They are offering Leverate's Sirix trading platform and have five account options available for their clients, but they haven't mentioned any details about trading conditions. Moreover, the broker is not licensed in Estonia or Ireland.
Then, why do people sign up with this broker? It lures them in with the following benefits:
The availability of Sirix platform
As stated earlier, morgantrust.eu is offering its traders the option of using Leverate's Sirix trading platform. It is an all-in-one Forex terminal, which supports social trading and has a very user-friendly interface. The platform is equipped with a number of intuitive graphs and charts, but its most prominent and notable feature is the 'Social Stream'. This feature shows all the live trades that are conducted by other traders, along with additional information like how many trades copied the trade and you can also copy them.
An excellent selection of assets
Another reason why people are drawn to Morgan Trust is due to its impressive selection of assets available for trading. The broker offers you both major and minor Forex pairs, cryptocurrencies and also European, US and world equities.
While these features are quite attractive, they are not enough to ignore the dangers associated with Morgan Trust. What are they? Let's check them out:
There is no regulatory oversight
Morgan Trust is owned and operated by GreenRiver OU, a company that's based in Estonia, but its operational address is listed in Dublin, Ireland. As mentioned above, this broker hasn't obtained a trading license from the Estonian Financial Supervision Authority and neither does it have a license in Ireland or any other country for that matter. Another brokerage firm is owned and operated by the same company, which is called InvestTeck. Since they are not overseen by a government regulator and are not bound by any law, it means that you are exposing yourself to all kinds of risk when you decide to trade via Morgan Trust. Your money and interests are not given any sort of protection.
The broker is targeting EU investors illegally
No legitimate license has been issued to Morgan Trust, which means the broker cannot offer its financial services in heavily regulated markets, such as the EU, US, Australia or Japan. Regardless, the default language on the broker's website is German and they are obviously targeting investors from the European Union. Therefore, it has prompted the FMA, which is the financial watchdog in Austria, to issue a warning against the broker. This is a major red flag and you should think twice before you hand over your money to this broker.
You will not have MetaTrader available
When you sign up with Morgan Trust, you will not be able to use the MetaTrader 4 or the MetaTrader 5 trading platforms. Leverates Sirix trading platform is available and even though it is not that bad, it is not even close to the industry leading software provided by MetaQuotes. Most traders prefer to use this forex trading software as opposed to any other because the MT4 and the MT5 have top notch charting, provide extensive back-testing environment and also support automated trading through Expert Advisors (EA).
No spreads have been disclosed and cost of trading is high
The fact that Morgan Trust has not disclosed any of the trading conditions offered on its platform should warn traders off. You cannot sign up with a broker that's not transparent about the costs they charge. There are no reference spreads mentioned and you cannot find information on other trading specifics like the leverage ratio, commission fee and more. This doesn't leave a positive impression because it indicates the broker's lack of commitment. The spreads that are displayed are also quite high, which means the cost of trading will be high. Morgan Trust has fixed spreads of 2.5 pips for the EUR/USD pair. In contrast, most brokers offering fixed spreads don't go higher than 2 pips. In fact, they tend to go lower.
High deposit requirements
It is not just the cost of trading that's high with Morgan Trust. The broker is also asking for a very high initial minimum deposit, which is undoubtedly suspicious. There is no demo account available so you cannot test the platform nor check the spreads. Even though five account types are offered, the minimum deposit for the first account starts at $10,000. This is excessively high, considering that most brokers only ask for a minimum initial deposit of $250. In fact, some of the top brokers only ask for $5 or no initial deposit.
Conclusion
As a whole, there are a lot of worrisome aspects that you can see in the case of Morgan Trust. The fact that they are not licensed by any authority alone is enough to discourage people from using their services. When you combine it with the fact that the broker has high deposit requirements and is illegally offering their services to EU customers, it is best to seek other brokers.
Summary
Reviewer
Review Date
Reviewed Platform
Author Rating