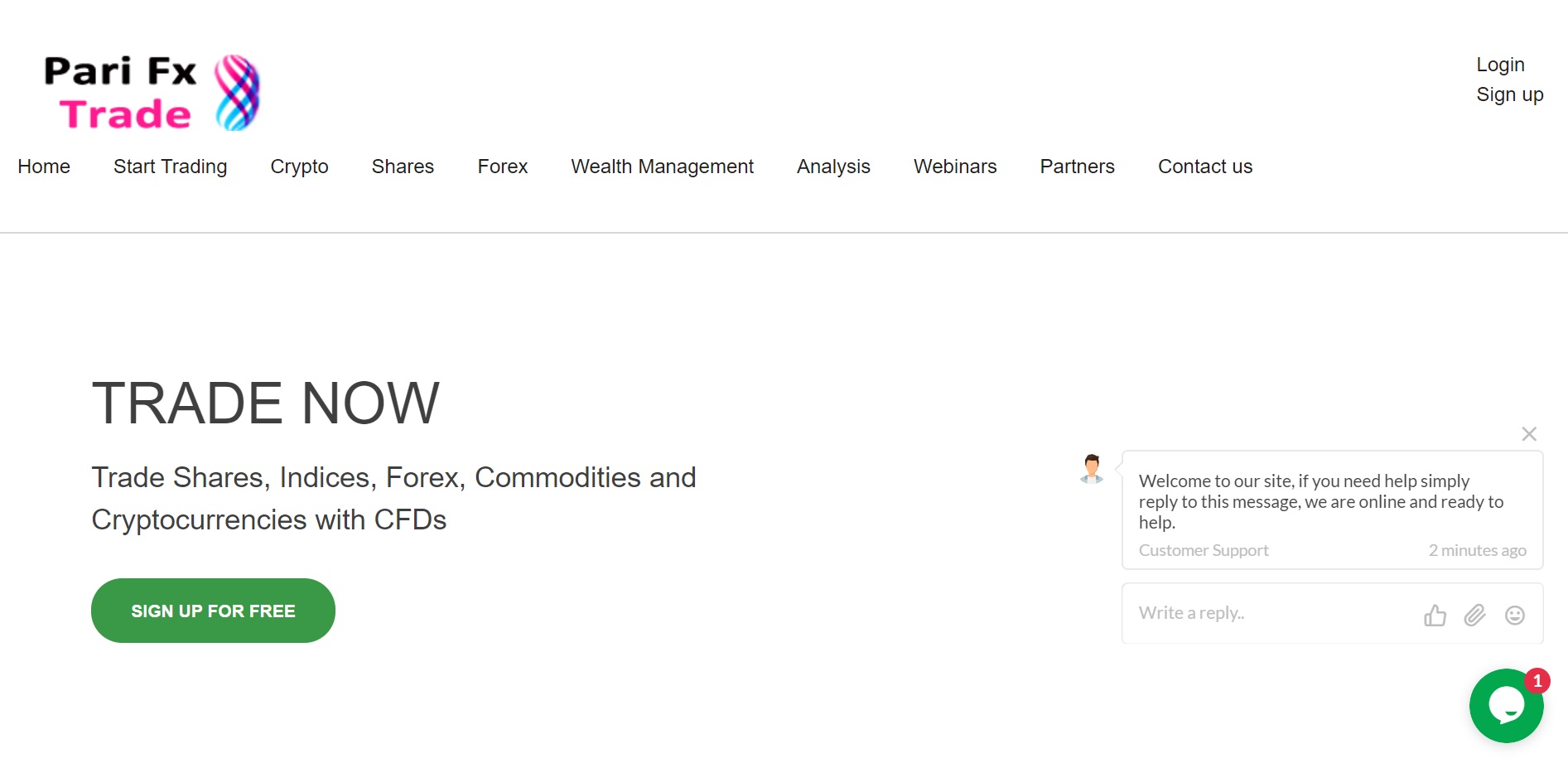 Pari Fx Trade Review
You have probably heard about people trading currencies to earn hundreds of thousands of dollars. It always makes you wonder if you could also do the same. Indeed, it is possible because forex trading is open for everyone. As long as you have funds to invest, you can get started. How do you start trading? You need a broker as they will provide you access to the currency pairs you want to trade and the platform for trading. However, this is where you need to be very cautious because there are numerous scams out there. No one wants to lose their hard earned money, but if you don't make the right choice, that's exactly what is going to happen.

Recommended Cryptocurrency Trading Software – With Bitcoin Evolution you can automate all of your trades or carry out manual trading by yourself through the smart program with your broker. The Bitcoin Evolution's type of software has the capability to precede the markets by a notable amount of time, as much as 0.01 seconds, which can bring you huge profits!
The problem is that with so many brokers to choose from, it often becomes distinguish the right ones from the rest. Every broker you check out looks legitimate. Scammers are aware of how to trick people into signing with them. An excellent example can be seen with Pari FX Trade. According to the broker's website, it is one of the leading financial institutions in Europe, which specializes in Forex and CFD trading. Its parent company is called EXPERT Markets, an offshore firm that has its base in Seychelles.
This broker claims to trade forex, shares, indices, cryptocurrencies and commodities with CFDs. In addition, it states that it has more than 250 assets available for trading and has garnered over 700,000 clients. Put simply, Pari Fx Trade is offering this variety of trading options to people in order to convince them to sign up. It is also one of the top reasons why the broker is offering a high leverage of about 1:400. Why is this leverage not a good idea? This is due to the fact that this high leverage is currently only offered by unregulated brokers, such as Pari Fx Trade, or financial service providers based in Australia.
It is the only notable regulatory hub where the leverage that is given to traders is not restricted. All across the US, Europe, Japan and Canada, a cap has been placed on leverage levels in a coordinated effort of limiting the risk to the investment of retail traders. Yet, Pari Fx Trade has now opted to do so, which means your money will be at risk when you decide to trade with this broker. Apart from these, there are numerous other reasons why this broker cannot be trusted. What are they? Let's take a look
Pari Fx Trade has made false regulation claims
According to claims, the broker is being operated by Pari Fx Trade Holding Limited and Pari Fx Trade LLC. Moreover, it claims to be licensed by the U.S. National Futures Association (NFA), the Cyprus Securities and Exchange Commission (CySEC) and the FSC. However, when you check the registration numbers provided for NFA and CySEC, you will come to know that these numbers actually belong to BDSwiss. Plus, it seems that the companies mentioned above don't even exist. In other words, this particular broker is operating as a clone firm, which means it is illegally using the details of another forex broker that is actually regulated in Cyprus.
It should be noted that companies that go to such lengths for presenting their clients with such misleading information should not be used at any cost. This pattern is not very different from that of scam brokers in the market and are not bound by any regulatory authority, which leaves traders completely vulnerable.
Pari Fx Trade has been blacklisted by CySEC
Even though Pari Fx Trade has not been given the authority to offer its financial services in any regulated markets, it makes claims of 'offering' its services in Europe. As a result, it has received a warning from CySEC, the Cypriot financial watchdog and the regulator has clearly stated that this broker is not associated with them. Again, this is a warning sign because it tells you that the broker will not comply with any of the rules and guidelines outlined by CySEC. This means that they are not bound to follow any standards and don't offer any financial protection.
Pari Fx Trade has not disclosed its trading conditions
When you check out the broker's website, you will notice that Pari Fx Trade has not presented any information regarding the account types it offers or trading conditions that you can find. As a matter of fact, it is not even clear what trading platform is being provided to clients when they decide to use Pari Fx Trade for trading purposes. Every time you browse through the broker's website, you will simply end up on BDSwiss' website.
This lack of transparency and clarity regarding the key trading conditions of a forex broker, such as minimum investment needed, spreads etc. is also a warning sign. This practice is quite common amongst scam brokers.
Pari Fx Trade doesn't allow you to open an account directly
No demo accounts are offered by Pari Fx Trade so you cannot get an idea of what to expect with the broker. However, even when you sign up for a live account, you will not be able to open it directly. As it turns out, those who are trying to register their account will first have to be approved by a monitoring team. Again, this is a very strange practice and not something that you will find in other brokers.
Conclusion
Overall, this is an indication that Pari Fx Trade is just a clone that has absolutely no license and its offerings are downright unclear. To top it off, it has been flagged as a potential scam by one of the most powerful regulators in the world i.e. CySEC. This is a clear warning for all traders to direct themselves to better options when they are interested in trading. It is best to sign up with brokers who are regulated by reputable organizations, such as CySEC, ASIC, FCA and others, because it adds a layer of security.
Summary
Reviewer
Review Date
Reviewed Platform
Author Rating