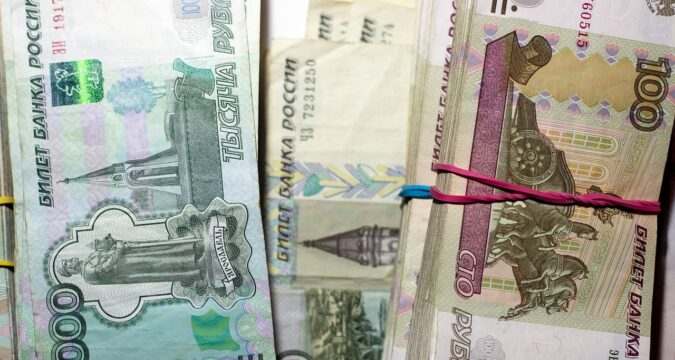 The Russian rouble seems to have taken a huge hit in the recent trading session. In the latest trading session, the rouble's value ended up hitting a three-month low.
Ruble's Value Dip
Due to the recent downside movement of the rouble, its value against the dollar has come within the whisker of 64.
The fall in the price of the rouble is mainly due to geopolitical risks and concerns rising among investors. Russia's conflict with Ukraine is constantly escalating which is increasing many concerns among investors.
Investors are refraining from making investments in favor of the rouble because they fear Russia's situation with Ukraine may continue worsening.
As other countries keep boycotting Russia in terms of trade and relations, things would continue going south for the Russian rouble.
The country is also facing multiple issues in terms of imports and exports, which is causing a negative impact on the trading price of the rouble.
Price Action of Ruble
On Tuesday, the market value of the Russian rouble dipped by 1.2% versus the greenback. Following the dip, the Russian rouble came down to 63.44 versus the USD.
However, before settling at the low price of 63.44, the Russian rouble even hit a weaker price of 63.9975. This was the lowest price the Russian rouble had hit since July 7.
Russian rouble also lost a significant value versus other major currencies such as the yuan and euro. The report shows that against the Chinese yuan, its value dipped by 1.1% and it is currently trading at 8.75.
The Russian rouble has also lost its track versus the euro. In the latest (Tuesday) trading session, the value of the rouble has dipped 1.5% bringing it down to 62.31 versus the euro.
Predictions by the Analysts
The majority of analysts are predicting that the trading price of the Russian rouble would continue falling in the negative zone.
The analysts predict that with the conflict continuing between Russia and Ukraine, the pressure would continue building on the rouble.
Even the exporters are not able to provide much foreign currency to the government because of the sanctions and export restrictions imposed by countries supporting Ukraine.
Bogdan Zvarich, one of the senior analysts at Banki.ru was among the analysts who made a similar prediction surrounding the trading price of the rouble.
So far, Russia has been trying hard to manage the value of the rouble via capital controls. The country has also reduced imports in order to save the rouble's value versus the dollar.
In the upcoming days, the value of the rouble may continue falling and the major factor would be Russia's continuous invasion of Ukraine.