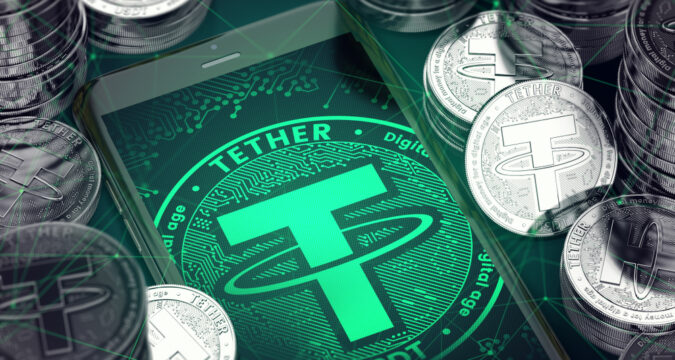 As the crypto market bloodbath continues, stablecoins are not exempted from the broader market correction. Amid the industry turbulence, Tether (USDT) stands tall as the leading stablecoin continues to record more daily transactions.
Tether Leads Centralized Exchange Trading Volume
Of the total cryptocurrencies in the centralized exchanges (CEX), Tether leads the pack in transaction volume. In addition, USDT occupies the third spot among other centralized exchange tokens. According to CoinMetrics data, Tether's share of the overall trading volume in the CEX market is the highest among other stablecoins.
Tether's dominance is about 70% of the transaction volume recorded by exchanges, despite its small share at the start of the year. Binance USD (BUSD) takes second place and is also experiencing a surge in its spot transactions due to its regular use as a quote asset on the Binance trading platform.
Behind USDT and BUSD is USD Coin (USDC), followed closely by Dai (DAI). However, USDC has so far witnessed low utilization following Binance's decision to delist it as a quoted spot pair in its recent move to change all stablecoins into BUSD. Binance's decision was caused by USDC's domineering market cap on Ethereum, which dropped to 39% in October.
It is worth noting that USDC experienced a peak in July as it accounted for 44% of the market performance, per data released by the on-chain analytics platform, Messari.
Nevertheless, Tether continues to dominate other stablecoins as the largest token by market capitalization. The USDT's dominance is not without its setbacks. Tether has been through a patch since last summer and has yet to recover fully from the slump.
Tether Removes Commercial Paper from Reserves
In a blog post on October 13, Tether revealed that it no longer has commercial paper in its reserves. The news ends the earlier claims that the stablecoin heavily depends on China's commercial paper to boost its reserves. Tether then said it had replaced commercial paper with U.S. Treasury Bills (T-Bills) for its reserves.
Commercial papers are a collection of unsecured promissory notes used by large global corporations as a short-term solution to financial issues. Hence, they are not backed by any known government or private financial agency. Tether estimates its commercial paper exposure to be $30 billion as of last year.
Meanwhile, the total market valuation of stablecoins has shrunk significantly this year, along with the broader crypto industry. Stablecoins' current market cap is estimated to be roughly $150 billion per recent CoinMetrics data.