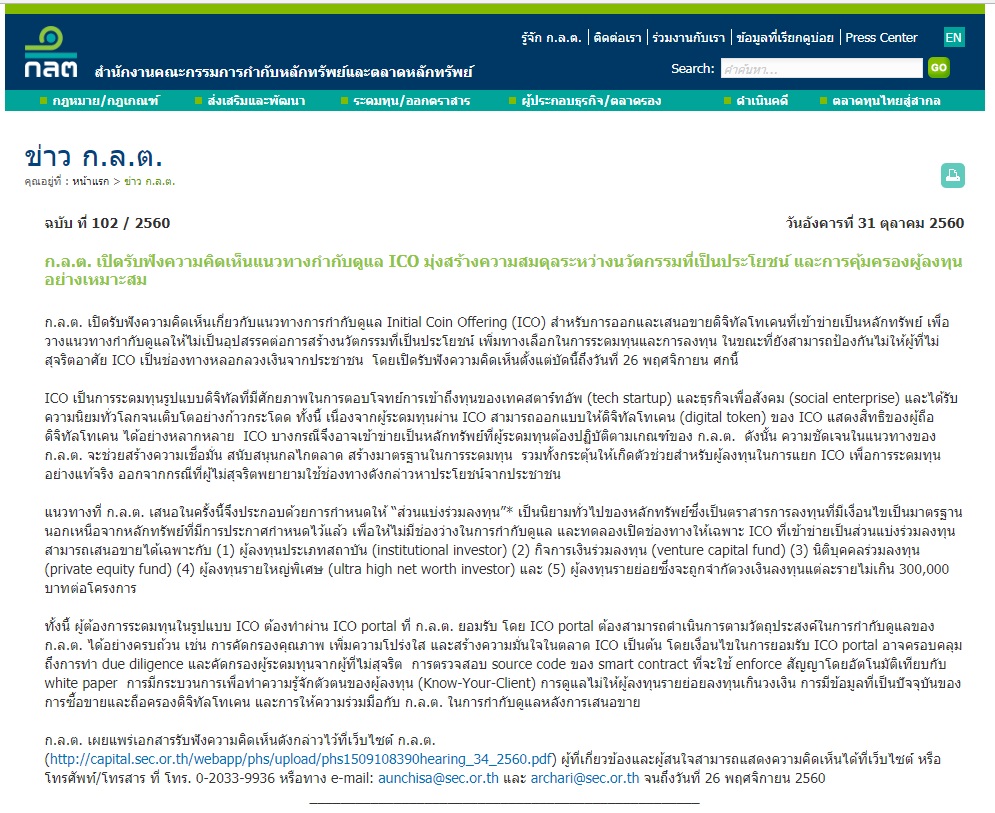 The world of digital currency is already being subjected to some sort of regulation or the other. This is to ensure the security of transactions making use of digital currencies and also to curtail the activities of cryptocurrency exchanges thus bringing about transparency and efficiency to the overall working of these exchanges. In line with the global regulations being witnessed by digital currencies, Thailand through its Securities and Exchange Commission just recently released some set of regulations that will guide the operation of Initial Coin Offerings [ICOs] in the region. Following the announcement of these new regulations, Thailand's Securities and Exchange Commission has also made these new regulations readily available, as it also releases a list of approved cryptocurrencies in the country which included seven cryptocurrencies. With the announcement, release, and approval done, these regulations are to be effected from the 16th of June, 2018 and every ICO activity in Thailand becomes subject to the rules therein.

Recommended Cryptocurrency Trading Software – With Bitcoin Evolution you can automate all of your trades or carry out manual trading by yourself through the smart program with your broker. The Bitcoin Evolution's type of software has the capability to precede the markets by a notable amount of time, as much as 0.01 seconds, which can bring you huge profits!
Thailand's ICO Regulations
With a new framework introduced to govern the operation of Initial Coin Offerings in Thailand, this new provision makes it very necessary that any and every Initial Coin Offering issuer, must have its company registered in the country with the Securities and Exchange Commission with a minimum capital of about $150,000 before running its ICO.

Going by the new regulations, Thailand's Securities and Exchange Commission also allows approved ICO issuers to provide an unlimited number of tokens to its market users, but it sets a value limit for retail investors which is currently put at about $9,050.

The new regulatory framework has also approved seven cryptocurrencies thus allowing registered issuers to be able to receive payments and transact across any or all of the seven approved cryptocurrencies. Litecoin, Bitcoin, Ethereum, Ripple, are notable cryptocurrencies among the approved seven cryptocurrencies.

ICO issuers before approval will need to provide certain basic information like its prospectus, source code and comprehensive financial statement to the Security and Exchange Commission. The commission will go through all of these and if satisfied, give its approval.
These new regulations on cryptocurrency by Thailand's authorities is not in any way to scare start-ups and business from launching or running their ICOs. Its main aim is to ensure that domestic cryptocurrencies are protected and secured and transactions carried out with them are safe, secured and guaranteed. With this step initiated sometimes in March this year, its current position is indeed a commendable one. Thailand looks to earn the cooperation of ICO issuers and expects applications of approval from different issuers.