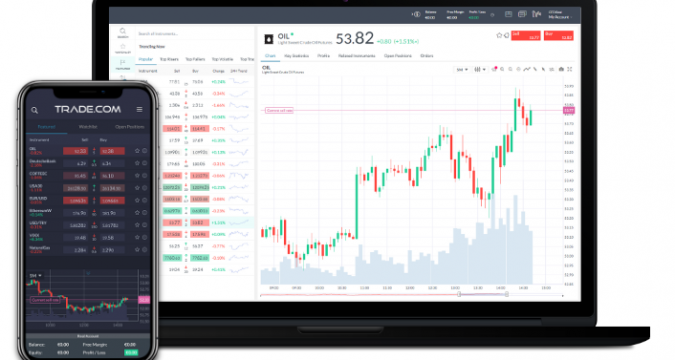 TRADE.com Review
In recent years, the forex brokerage sector has been narrowing down. While there have been a lot of new brokers entering into the market over the past decade, a lot of these have quickly disappeared.
These days, forex traders and investors prefer the safety that comes with using a multi asset brokeragae firm that is well-capitalized and is part of a global network. This is most definitely the case when it comes to TRADE.com. You have access to one of the most impressive range of different assets to trade in the space today. Currently, you have more than 2,100 different assets ranging across six different categories to trade and that's just with the CFD offering.
There are also many other different types of vehicles for trading, such as Spread Betting, Asset Management, Thematic Portfolios and IPOs. The IPO offering allows you to get access to some leading startups before they have gone public. This is private allocation Pre-IPOs, including big name late stage unicorns like Uber and Lyft.
Those residents of Ireland and the United Kingdom can benefit from tax-free gains through Spread Betting. TRADE.com have made this available through their sophisticated WebTrader platform.
You also have Direct Market Access (DMA), which connects you directly with the interbank market. You will have use of a top-quality trading environment and a massive range of investment opportunities covering hundreds of thousands of assets. With Thematic Trading, you can invest in a selection of assets that have been bundled together using a given trend or theme, such as AI or cybersecurity. If you wish, you can also avail of the asset management services on offer at TRADE.com. This is done through either customised or model Alpha portfolios, that have been designed with the goal of outperforming major benchmark indices like the S&P.
TRADE.com operates through Trade Capital Markets (TCM) and Livemarkets Limited. TCM is regulated through the Cyprus Securities and Exchange Commission (CySEC), which is one of the leading European regulators for online brokers of this kind and in South Africa through the Financial Sector Conduct Authority (FSCA). LiveMarkets Limited is regulated by the Financial Conduct Authority (FCA) in the United Kingdom.
For forex traders, you have a nice selection of major and minor currency pairs, as well as some exotic pairs. There are a couple of thousand different equities that you can invest in, as well as the 26 leading global indices and some commodities, bonds and precious metals. You can choose from five different types of accounts, each catering to a certain type of trader. The benefits will improve with the more advanced account options, but each account will still have a demo account and training support.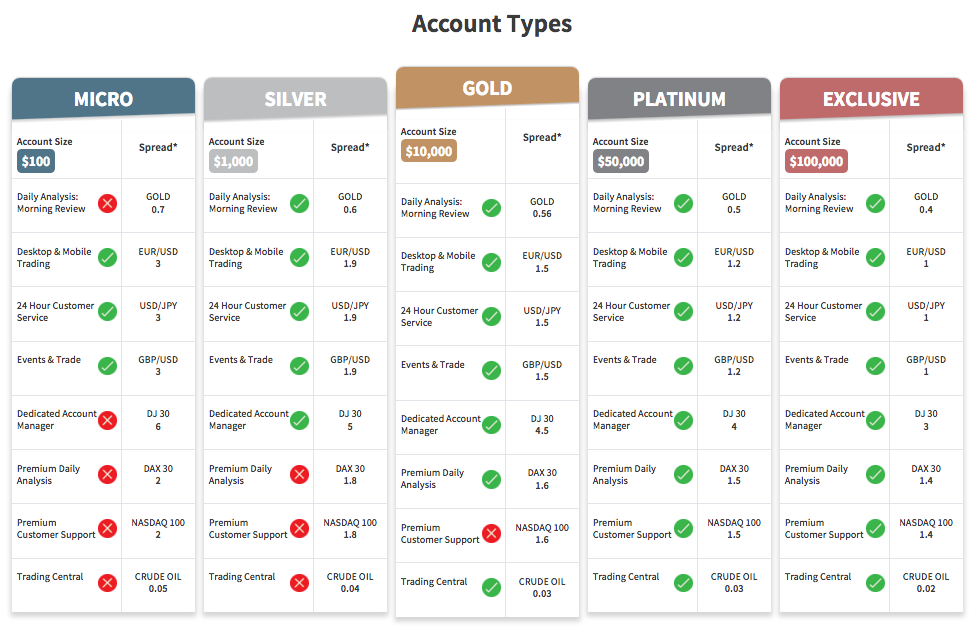 For experienced traders, they will be familiar with the MetaTrader 4 trading platform that is offered through TRADE.com. This is the favored choice for the majority of online brokers in the space today thanks to its reliability and range of trading tools.
There is also the WebTrader platform that is on offer through TRADE.com. This has a few more features than MetaTrader 4 and it has a great system for conducting both fundamental and technical analysis. You can use this platform through a web browser and there is a mobile offering for both platforms. WebTrader's TradingView advanced package for charting is a favorite among experienced traders. Each given investment category will have its own set of leverage and spreads.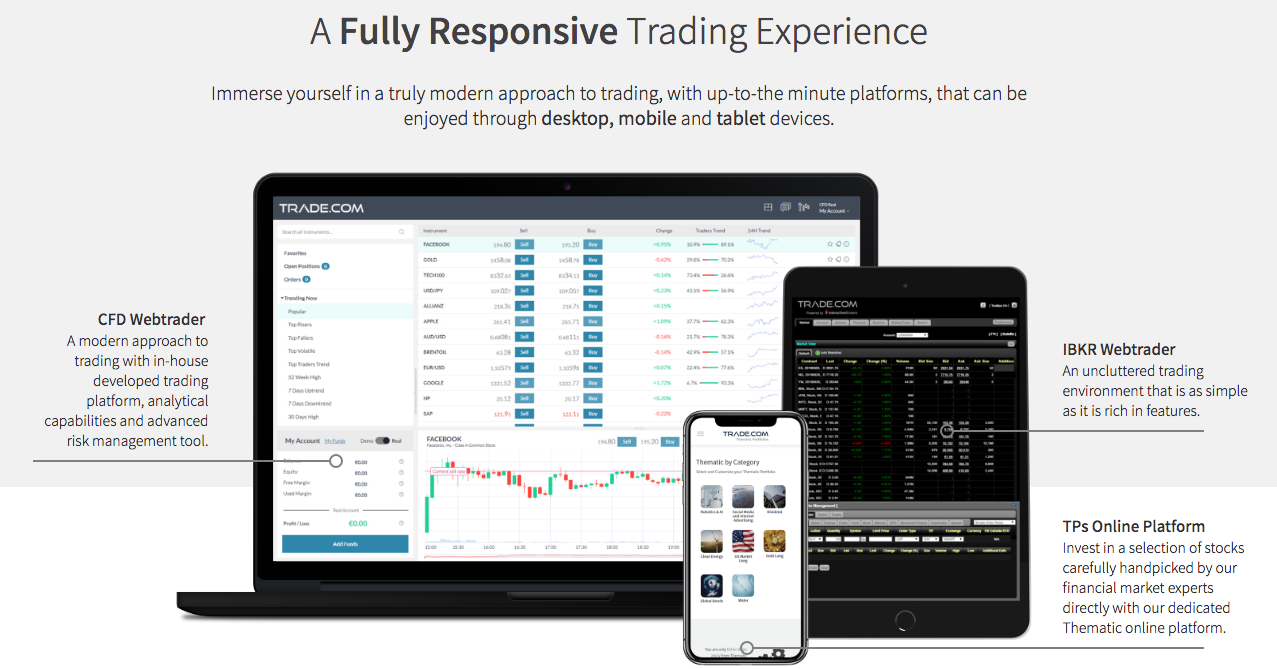 As you have seen, TRADE.com is well-regulated across the world. The broker always ensures that it is compliant and that clients are protected. All client funds are kept segregated from the operational funds of TRADE.com. These accounts are with leading banks and keeps the funds protected in case issues arise with the broker's liquidity. You also have a range of other deposit protection schemes that will provide further protection for your funds.
TRADE.com Features
If you are considering trading through TRADE.com, here are some of the positive aspects:
Under the umbrella of firms regulated by leading bodies such as the CySEC, FCA and the FSCA

Massive range of different investment opportunities

Competitive leverage and spreads

A minimum deposit of just $100

Client funds are protected in case of TRADE.com liquidity issues

Five different types of account to choose from

Demo account and dedicated account manager for every account

Two leading trading platforms on offer

Wide-ranging educational and training resources available

Seven different languages catered for on the website

Strong selection of different customer support options
Trading Platform
TRADE.com has two very well-respected trading platforms on offer for traders. These are very easy to use, but they still have enough features and tools that more experienced traders will also be happy to trade through them.
MetaTrader 4 is extremely popular as a trading platform among online forex brokers. You can download this client straight to your desktop and you can also use the MetaTrader 4 app to trade through your iOS or Android devices.
You can also trade through a web browser through the WebTrader offering. This has a few more advanced features and charting capabilities than MetaTrader 4. It is the TRADE.com in house built platform and it is amazing. It has so much functionality and has some inbuilt tools like Traders Trends, Trading Insights and also TradingView charting. There is also support for mobile trading, with a decent crossover of tools and features from the desktop version.
You can also get DMA through the IBKR sophisticated platform. With DMA, you can directly plug into exchanges all across the world, allowing you exposure to countless tradable assets. You will benefit from instant execution and lower fees.
In terms of the TRADE.com platform itself, all client data will be kept safe and sound thanks to the deployment of 128-bit encryption technology. This means that during both the transferring and storage stages of this data that all info will remain encrypted. 
Deposits and Withdrawals
If you are looking to make a deposit or a withdrawal through TRADE.com, there are a few mainstay options that you can use. Most major credit and debit cards will be accepted. You can find a list of the approved card providers on the TRADE.com website. You can also use a fast bank transfer to add and remove funds from your account in your preferred local currency. The two e-wallet options to use are Skrill and Neteller.
Some people will be disappointed that there is not a wider variety of payment options, but the main bases are covered. Deposits will usually process in a matter of minutes while withdrawals can take a few days to process. There are no fees charged by TRADE.com on these transactions. However, the payment processor you are using may charge its own fees when you make certain transactions.
Beginners and Customer Support
If you are only getting started with trading, then there are some useful resources you can check out on TRADE.com to help you on this journey. This includes regular guides and articles relating to upskilling your trading, as well as regular analysis and strategy pieces that will be tailored to different levels of traders. You also can access daily market commentary to help you get ready for a given day's trading.
There is also a lot of support to help you through the processing if you have any questions. The support team at TRADE.com will work at all hours on weekdays. You can contact them during these hours through phone, email, live chat and even WhatsApp. For simple queries, live chat will be your best option. For more detailed issues, using the phone or email support can allow you to get a more accurate resolution.
TRADE.com Conclusion
TRADE.com has impressively grown its offering across the world in just a few short years. It has offices in many major cities. It has positioned itself as one of the leaders in the online brokerage sector. Its main differentiating feature is the wide range of available assets you can invest in. You have thousands of different ways to invest your funds through TRADE.com. There is also very good and personalised customer support, decent trading platforms and security.
TRADE.com focuses on ensuring that customers are always properly supported and that any issues are quickly resolved. It also has a wide variety of educational and research resources for all different types of traders. As a result, many see TRADE.com as being a one-stop shop for all of your trading needs. Therefore, this versatile offering is worth consideration.
Summary
Reviewer
Review Date
Reviewed Platform
Author Rating