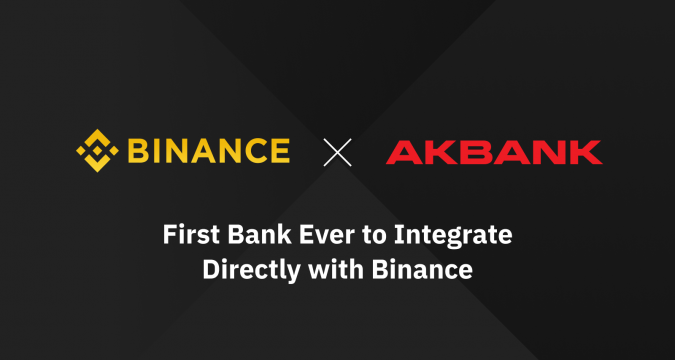 One of the largest crypto exchanges, Binance, announced on March 2, 2020, about its latest partnership with Akbank, one of the largest banks in Turkey. Per the official statement, Akbank is the first-ever bank to directly work with Binance.
Akbank is the biggest as well as the oldest bank of Turkey with nearly 770 branches across the country. The strategic integration between the two giant firms will provide a healthy environment for crypto trading to people in Turkey.

New Bitcoin Robot – With Crypto Engine you can trade better and faster! Crypto Engine uses some of the best trading technologies for reading the data obtained from the cryptocurrency markets and then generates the trading insights that can be used for earning profits.
First Bank Ever to Work directly with Binance
The partnership will allow traders to make payments in Turkish Lira (TRY) at affordable fees. One can access the Binance site from a desktop or mobile device to make deposits and withdraws in Lira. According to the exchange's blog post, '' users will be able to instantly deposit and withdraw Turkish Lira (TRY) on Binance via desktop and the iOS App with the most competitive fees in Turkey.''
The co-founder and the CEO of Binance exchange, Changpeng Zhao, said, '' As part of our mission to continue working on increasing the freedom of money worldwide and notably in a country that is fast-adopting digital assets, we are expanding the available options to lower the barrier to entry.''
CZ seemed very optimistic about crypto trading and crypto investment while expressing his thought over the partnership with Turkish's largest bank. He commented, '' As the industry scales with our products and services that grow in tandem, the availability and process of investing, exchanging and trading crypto will become more and more seamless.''
Binance is continuously making progress in expanding its services to crypto traders, across the world. It has also opened its offices in some countries to enlarge its operations at the users' doorstep. For instance, the crypto firm has targeted Australia, Nigeria, and the UK to make fiat gateway easy and reliable.
BTC always Surges in Financial Crises, claims CZ Binance
In his recent tweets, CZ Binance pointed out a very interesting point explaining the relationship between Bitcoin price and financial crisis. According to him, Bitcoin was created after the financial crisis ten years back and it has risen by 9,000,000% in the last ten years. He questioned from the community by saying, '' How do you think it will do in the next financial crisis?''