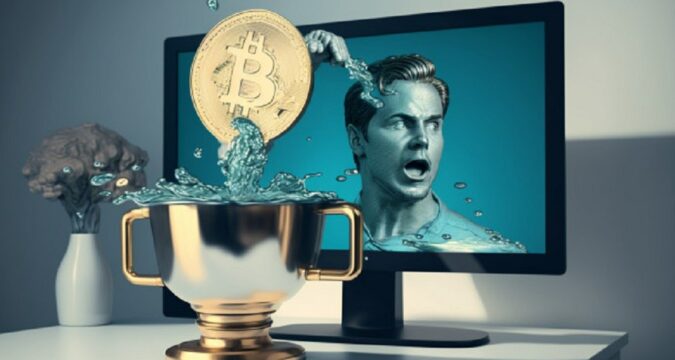 There are a few ways you can get free Bitcoins, and one of them is through Bitcoin faucets. Since Bitcoin came into existence, there has been a way to put free Bitcoins in the hands of people in order to get them interested in the first cryptocurrency, a lot like an airdrop.
Faucets however work differently by giving out Bitcoins at a specific time interval.
You can use them to accumulate little Bitcoins at a time until you have a substantial amount. Let's dive into what Bitcoin faucets are so that you can go on to use them to get some free Bitcoins, shall we?
What are Bitcoin Faucets?
Faucets basically are taps. If you don't believe it, google "faucets" and see what pops up. Therefore, Bitcoin faucets are basically "taps" that keep giving out Bitcoins.
The best thing about faucets perhaps is that they give out "free" Bitcoins.
"Free" because while some give out Bitcoins literally for spinning a wheel, most require that you carry out a few tasks and get the Bitcoins in return.
Gone are the days when traditional faucets give out whole Bitcoins – yea, they used to give whole Bitcoins.
Bitcoins you get are measured in Satoshis or Sats, which is the smallest unit of a Bitcoin.
So for instance, the faucet will promise you 10,000 Sats rather than referring to it as Bitcoin.
There are varying conditions for getting Bitcoins from any faucet. For some, you just need to spin a wheel on your screen.
However for some, you need to carry out tasks such as watching ads, filling questionnaires etc. You just don't get it in exchange for money.
There are time intervals for using any faucet. For example, some allow just one spin in two hours, or an hour, 30 mins etc.
There are those that allow you to spin every five minutes, which makes it critical to choose the most suitable faucet for you.
Sadly though, the rewards coming from faucets have reduced significantly over the years, first because there are more people who are now aware of Bitcoin.
Secondly, Bitcoin has become very expensive, so they can only afford to give out a little of it at a time. All the same, it's better than having to buy Bitcoin right?
If the above description has convinced you to try out a crypto faucet, the following are some of the best and you can try out any of them for some free Bitcoins today.
FreeBitcoin
FreeBitcoin is one of the oldest Bitcoin faucets ever created. It allows you a chance to earn up to $200 in rewards every hour.
It is also very easy to use, and offers 50% commission on the rewards of people you refer to the platform. There is no limit to your earnings with this.
There are also games for the big boys, which allow you to win up to a whole Bitcoin.
With their wagering games, you stand a chance to win a Lamborghini, but this carries risks so you should be careful.
There is also a weekly lottery you can win, and interest accrues on your Bitcoin.
To use it, you just need a crypto wallet to send your Bitcoin to when you reach the minimum withdrawal amount.
Cointiply
This isn't just a Bitcoin faucet but also gives rewards in Dogecoin (DOGE).
You can get up to 200 Sats every hour, by filling out surveys, watching videos, and clicking advertisements.
Refer others and earn a commission as well as enjoy a 5% interest on Bitcoins you hold on the platform.
Bitcoinker
On Bitconker, you only need to complete simple CAPTCHAs to earn. It has a 5-minute timer and you can earn up to 100,000 Sats every five minutes.
You can withdraw once a week if you have up to 20,000 Sats.
They offer 10% commission on deposits, up to 30% seniority bonus for those who use the platform for long, as well as a referral bonus.
Conclusion
Now that you know what Bitcoin faucet are with examples, it is time to try them out and get some free Bitcoins.
There are many others out there and you can use them simultaneously to increase your earning.