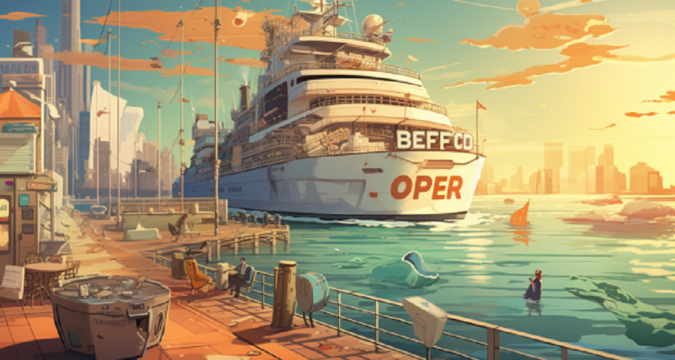 Creators of popular non-fungible token (NFT) collection, Bored Ape Yacht, has announced it will be ending support for OpenSea's Seaport Protocol in 2024. This is coming as OpenSea announced it will stop mandatory royalties for existing collections.
In a blog post on 17 August, OpenSea, the biggest NFT marketplace, announced that it was moving to optional creator fees, among other changes.
"We launched our Operator Filter so creators could restrict secondary sales to web3 marketplaces that enforce creator fees. But we relied on opt-in by the entire ecosystem, which didn't happen. So we're making a few changes to our approach to creator fees," OpenSea stated in the announcement.
"Starting on Thursday, the 31st of August, 2023, we're moving to optional creator fees on OpenSea in an effort to better reflect the principles of choice and ownership that drive this decentralized ecosystem," the announcement further stated.
To this point, OpenSea has made upward of $100 million in fees from collections like Bored Ape Yacht. Club, BAKC, Mutant Apes, and other prominent NFT collections.
In addition, Yuga Labs' collections on OpenSea comprise nearly $5 billion worth of all-time traded value. Out of this, the Bored Ape Yacht Club alone has generated around $2 billion. Apparently, the announcement didn't sit well with Yuga Labs.
"Yuga Labs will begin the process of sunsetting support for OpenSea's SeaPort for all upgradable contracts and any new collections, with the aim of this being complete in February 2024 in tandem with OpenSea's approach," Yuga Labs CEO Daniel Alegre wrote in a tweet.
"For as much as NFTs have been about users truly owning their digital assets, they've also been about empowering creators. Yuga believes in protecting creator royalties so creators are properly compensated for their work," he added.
NFT Community Responds 
The decision to end mandatory royalties for collections has not only been protested by Yuga Labs, but also by the general NFT and digital arts communities.
Whie expressing their anger and disappointment, artists have also decried OpenSea's disregard for creators through whom the platform has profited for many years. Commenting on the move, one of OpenSea's top investors, Mark Cuban said:
"Not collecting and paying royalties on NFT sales is a HUGE mistake by OpenSea. It diminished trust in the platform and hurt the industry."
Other Changes Made by OpenSea
In addition to disabling mandatory royalties, OpenSea has also adjusted its OpenSea Pro fee structure, and is to charge 0.5% on listings and offers on the platform starting the 31st of August.
With such dramatic and unpopular changes on the platform, OpenSea may start losing users to other NFT marketplaces as there are several options that can offer similar services to what it is offering.