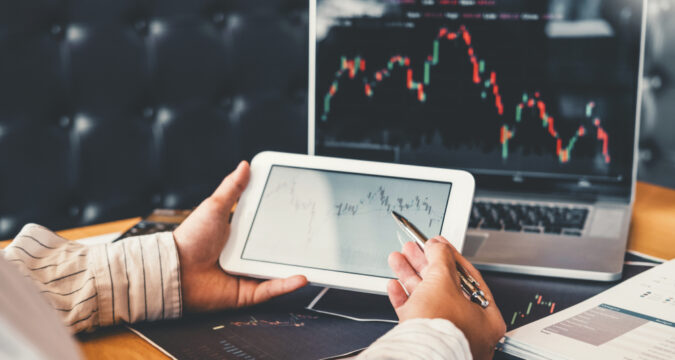 AssetShot Review
Everything you need to know about AssetShot

AssetShot is a relatively new forex broker on the foreign exchange scene in Saint Vincent and the Grenadines (SVG). The firm is owned and operated by Jess Group LLC, with an SVG registration number of 917 LLC 2021. Its address is First Floor, First St Vincent Bank LTD Building, James Street, Kingstown, P.O. Box 1574, VC0100, Saint Vincent and the Grenadines.
True to its name, the company gives you a shot at a wide range of tradable assets, which include forex pairs, commodities and metals, indices, futures, shares, and more. The management team has also elected to provide the extremely popular MetaTrader 4 (MT4) family of trading platform products, each version customised to provide you with as enjoyable a trading experience as possible. You do not have to learn the intricacies of a proprietary trading platform.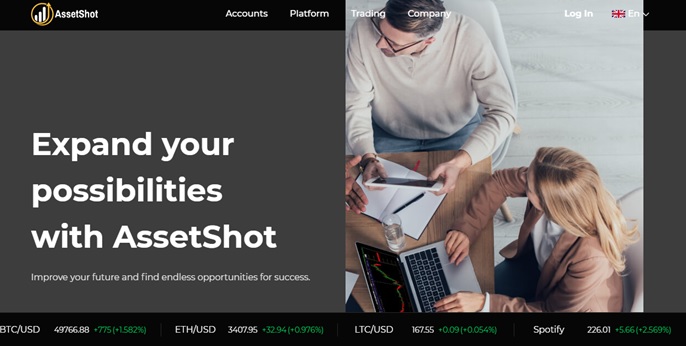 AssetShot also caters to all levels of trader, whether you are a beginner or a veteran. There are four account types plus a free demo account to appeal to your individual needs. All provide access to quality educational materials, a dedicated mentor, and straight-through processing (STP) without the need for a back-office trading desk working against you in the background. Execution speeds are fast with no re-quotes.
The firm's website is professional in appearance, but if you want access to all that this broker provides before making your decision, it is best to email any queries to its contact staff. Once you have the information you need, you can set up a real account and transfer a minimum deposit of $250. In order to trade you will need to submit Know Your Customer (KYC) documents, as required by law for all foreign exchange brokers. A list of items is presented on the website.
AssetShot is an offshore broker that elected to locate in SVG due to its less restrictive regulatory environment. If you desire better trading features, leverage and account bonuses that regulators in Europe, the UK and the US have limited, then AssetShot is the broker that can provide these elements for you.
Assets and financial markets
Account holders can also access hundreds of tradable assets with AssetShot, including:
Foreign currency pairs: The firm offers superior execution and deep liquidity for 60 currency pairs.
Indices: CFD trading in 16 global stock exchange indices is supported with spreads from 0.5 points.
Metals: Diversify your portfolio and reduce volatility risk by trading in gold, silver, platinum and palladium. CFD trading in futures and options contracts is the medium.
Energies: AssetShot offers CFD trading in Brent crude oil, WTI crude oil and US natural gas – another excellent avenue to diversify risk in your portfolio.
Futures: You may also trade CFDs in futures for indices, shares and commodities.
Shares: Lastly, AssetShot enables CFD speculation on the movement in prices for several of the most popular global companies in the market.
The trading platforms
In addition to the free MT4 demo trading platform, AssetShot offers four customised versions of MT4 trading platform setups.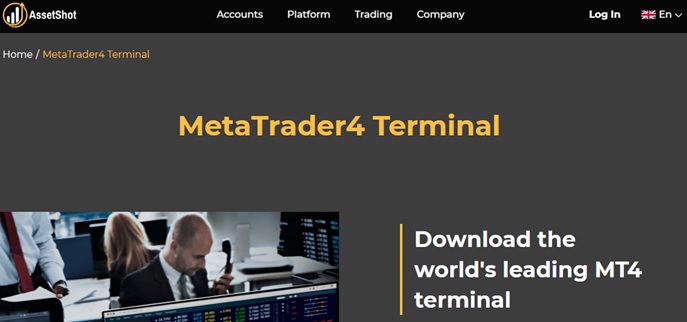 A brief summary of your four options follows:
MT4 Terminal: For those traders who prefer to download MT4 software onto their desktop or laptop device, MT4 Terminal is the solution. The most popular tools and indicators are easily accessed for market analysis on a variety of chart setups. Order types are also flexible to accommodate preferred market entry and exit strategies.
MT4 Mobile: For those traders who want to trade anywhere in the palm of their hand, MT4 Mobile supports both Android and iPhone smartphones. This option also provides a one-click trading environment, supports eight pending orders, and enables CFD trading.
MT4 Web: If you do not want the hassle of downloading software, MT4 Web will allow you to trade from your computer device wherever you have an internet connection. This easy-to-use trading platform will give you immediate access to the world's financial markets, complete with charting tools and features that MT4 is known for.
MT4 for macOS: In order to trade on your MAC devices, MT4 offers a specially adapted form of its terminal software for macOS systems. With this software, your macOS devices will be able to take advantage of the advanced features in a seamless manner. When used in tandem with the 'Wine' emulator app, you will enjoy full access to your account wherever you may be.
An MT4 Guide also follows the discussion of each supported version of MT4. In this section, you will find answers to various questions, such as: how do I make a trade? How can I access my charts? Where can I find my balances of equity and available margin?
The account types for traders
In addition to a free demo account, AssetShot provides four account classifications, Bronze, Silver, Gold and Platinum, depending upon your initial deposit balance, as depicted below: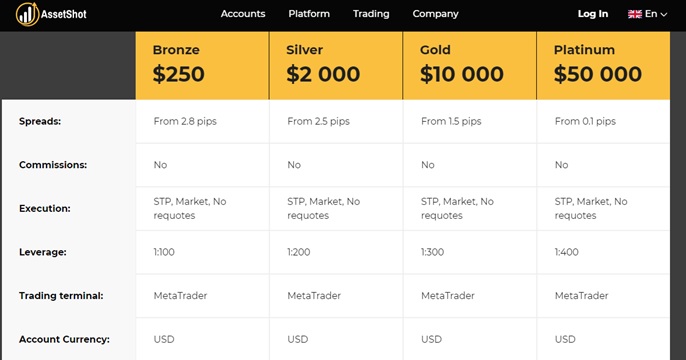 As noted in the pictorial, spreads tighten and leverage limits increase as you move to the right of the diagram. All other account features are the same for all categories, except that Expert Advisors are only permitted for Platinum account holders. Scalping and news trading are permitted for all account classifications, and a personal account manager is assigned to each customer.
Customer Support from the broker
Customer service representatives provide "24/5" support by phone, email and live chat. All accounts come with a personal manager, and deposits and withdrawals are automated for your convenience.
Pros and cons
AssetShot Pros
STP broker with no dealing desk
400+ assets for trading
No fees or commissions
MT4 family of trading platforms
AssetShot Cons
Not regulated
Below average spreads at low end of account range
Educational materials access requires an account
Final thoughts
A complete assessment of this broker may depend on answers to your email queries. AssetShot remains an offshore broker with limited regulatory oversight. If you long for higher leverage and more flexibility though, then AssetShot is worth a try.