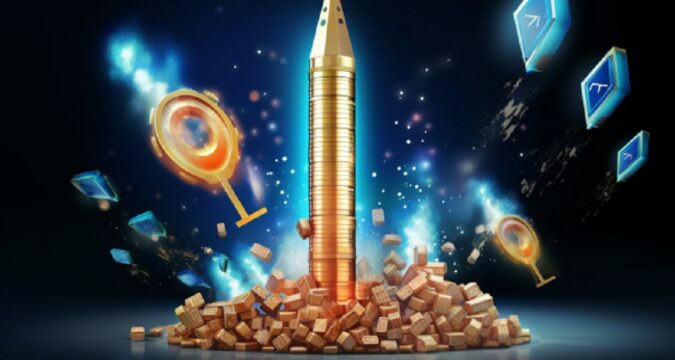 The SEI and BONE tokens saw a dramatic increase in value as the cryptocurrency market experienced a flurry of activity, with SEI rising quickly to rank among the top 100 cryptocurrencies on CoinMarketCap in less than 24 hours of its launch.
According to data by CoinMarketCap, the value of SEI, a budding cryptocurrency, increased dramatically and is now worth $0.2556 at the time of writing. This parabolic growth saw the coin's market grow to $460.5 million, and a significant $1.47 billion in trading volume in the last 24 hours.
It was gathered that this innovative token was designed to measure up with the highest class of the cryptocurrency hierarchy through a strong investment inflow into the Sei network ecosystem. According to a statistical analysis published by TradingView, BONE's price showed a minor pullback and is currently trading at $1.536.
Recent observation shows that despite the decline, BONE has shown extraordinary resiliency and continues to command market attention. SEI's 3,106% increase over the last dayp, which was also considered the most significant price move hence, placed it among the most amazing rallies seen by any crypto asset in 2023.
Ikemefula Aruogu, a cryptocurrency market analyst with Coin Edition, while explaining the situation said that this remarkable increase highlights the cryptocurrency's positive market response and the potential it offers for both investors and fans.
Aruogu also added that the developers of SEI have emphasized the solution's technical ability, claiming that it can manage 20,000 transactions at once and permit transaction finalizations in an astoundingly quick 0.5 seconds.
However, market analysis on the Coin Edition platform says that SEI's early stages showed great potential during its alpha stage. Also, the platform was said to have handled more than 400 million transactions across 7.5 million test wallets.
BONE Named Among The Best Performing Coins Amid Brief Decline
BONE has been said to be responsible for the rising coin prices in the cryptocurrency market. After a brief decline, BONE pulled off a huge comeback, soaring to $1.65, representing a significant 33.2% gain. The market's quick transformation and the potential for substantial returns in a short amount of time are highlighted by the spike in both SEI and BONE prices. Also, majority of investors have started flooding in to take advantage of this profitable price movement as seen in the CoinMarketCap market analysis.
Analysis on the CoinMarketCap blog explained that the rapid movement of investors into the Sei network was what qualifies it for to make it into the CoinMarketCap top 100 list. Meanwhile, took the 80th position on the CoinMarketCap top 100 top performing coins, while Bone ShibaSwap (BONE) made it to the #94 on the list.