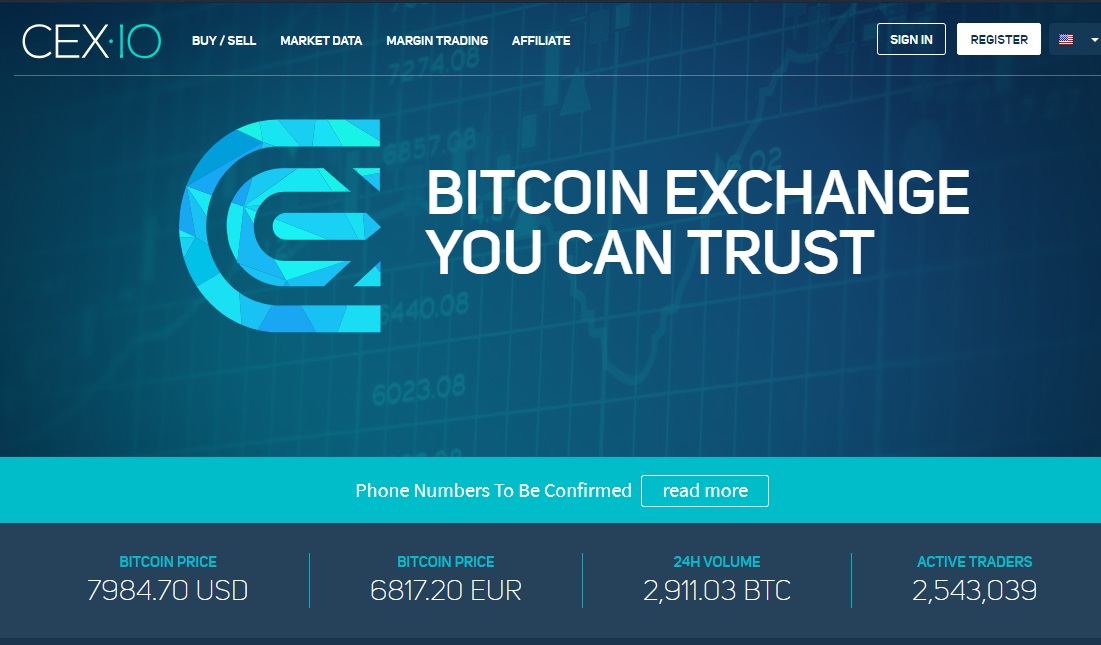 CEX.IO Review
Launched in London in 2013, CEX.IO initially operated as a cloud mining service as well as a Bitcoin exchange. At one stage, Ghash.io, its mining pool, became one of the largest ones on the Bitcoin network as it held 42% of the mining power on the entire network. However, the website shut down its mining services in January 2015, which means that now CEX.IO operates solely as a cryptocurrency exchange. Thus, this platform can be used for buying and selling Bitcoin, Bitcoin Cash, ZCash, Ethereum and Dash instantly with their debit and credit cards. Cross-platform trading is offered by CEX.IO via mobile app, which is available for both iOS and Android, Rest API, WebSocket and website.

Recommended Cryptocurrency Trading Software – With Bitcoin Evolution you can automate all of your trades or carry out manual trading by yourself through the smart program with your broker. The Bitcoin Evolution's type of software has the capability to precede the markets by a notable amount of time, as much as 0.01 seconds, which can bring you huge profits!
While there are a number of cryptocurrency exchanges operating in the market, CEX.IO is one of the most popular ones because the website has a very user-friendly and easy-to-use interface. This makes it the ideal choice for beginners and it also boasts a multi-level account system that can be customized and thus, is suitable for Bitcoin novices as well as institutional traders.
CEX is incorporated in the UK as a private limited company and is registered with FINCEN in the United States and ICO in the United Kingdom. The company applies AML (Anti-Money Laundering) and KYC (Know your Customer) policies, which requires users to verify their identity when they register on the cryptocurrency exchange. This verification process involves providing your email address, setting up a password, entering your telephone number and then verifying your email address as well as telephone number. A two-factor authentication system is used by CEX for security purposes, which uses either SMS, the Google Authenticator App or automated phone call.
You can use your MasterCard, Visa or virtual credit cards for making purchases on CEX.IO. After you have registered on the exchange and verified your identity, you can decide to purchase Ethereum or Bitcoin using a debit or credit card, a wire transfer or a SEPA transfer if you are in the European Union. You can easily add your debit or credit card to your account and their verification will take approximately 48 hours, but once it is done, you can buy Ethereum and Bitcoin instantly.
For verifying their card, users are required to take a selfie with their debit or credit card. The phone should have a clear image of the relevant card as well as the user's face. The photo should be of high resolution, in color and the file size should be within 15MB. Users should know that if the compliance officer is not satisfied with the quality of the selfie, another one may have to be submitted. CEX.IO has not disclosed what external agencies are consulted for verifying the information of the users. However, the platform has disclosed that they store the identification and credit card details of the users for five years after account deletion.
After credit card details have been submitted, a small charge will be made by CEX.IO to the card for verification purposes. You will be asked to enter the amount of this charge in USD. After verification is complete, this amount is automatically refunded to the users. Funds can also be transferred by the users through bank transfer. The currencies that are accepted by the exchange right now include Euro, US Dollars and Rubles. Bank transfer fee for both Euros and US dollar are a fixed €/$ 10.
The charges for credit card deposits to the users' accounts are 3.5% plus £0.20/ $0.25. Once your card is verified, the purchases from your credit card are processed instantly. This premium is charged by CEX.IO in order to ensure that they can fulfill their orders because they follow a different premise as compared to other exchanges. They go with Fill-or-Kill orders, which means that orders will be fulfilled at the offered rate and no exceptions will be made. The benefit of this particular format is that it guarantees users they will get whatever has been agreed in full and immediately.
A 7% service charge is also imposed on the users by CEX.IO, which is added to the price of the cryptocurrency available on the exchange. However, this service charge only has to be paid when users are buying directly from the platform. Different fees are applicable if the user is availing trading services. The basic fee that's charged for making trades on CEX.IO begin at just 0.2%. But, higher fees have to be dealt with when traders are making withdrawals to their bank accounts through debit or credit cards. 0.01 BTC is the minimum purchase amount for Bitcoin whereas the maximum is set at 10 BTC.
There are a wide array of accounts that users will get when they sign up on CEX.IO. Each of these account has varying transaction limits. Upgrading may take time, but you can make quicker purchases with a verified account. The account options that you will find are:
Basic: Bitcoin or Ethereum worth $500 can be purchased every day and $2,000 every month through this account. You only need to submit a copy of a government issued ID card for this account.
Verified: In this account, users can buy Ethereum or Bitcoin worth $10,000 daily and $100,000 per month. Along with an official government ID, users also need to provide proof of residency for a verified account.
Verified Plus & Corporate: This account has absolutely no limit imposed on the amount of Ethereum or Bitcoin that can be purchased.
Offline cold storage is used for keeping the users' funds and CEX.IO falls in the list of one of the few exchanges that enable their users to withdraw their funds on a debit or credit card. A withdrawal limit of €2,000 or equivalent in other currencies is applicable per day and per card and it goes as high as €50,000 in a month. This limit applies to both Visa and MasterCard. In terms of customer support, CEX.IO is quite strong and has a comprehensive FAQ section as well as the option of email for seeking assistance.
Summary
Reviewer
Review Date
Reviewed Platform
Author Rating