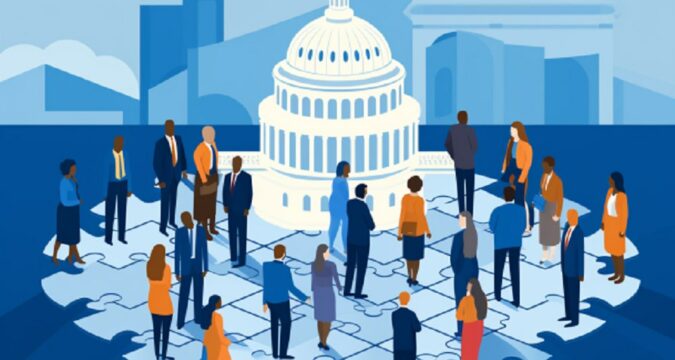 The recent crackdown on crypto in the US has left crypto companies worried about the future of the industry. However if proper legislation can be put in place to provide clear guidance for the industry, much progress can be made.
It is on this premise that crypto companies in the US are lobbying democrat lawmakers in a fresh attempt to push for proper regulatory guidance for the crypto industry. Top crypto companies including The Blockchain Association, Chamber of Digital Commerce, Crypto Council for Innovation, and Coinbase Global are working together in the lobbying attempt.
According to a number of lobbyists and executives, the effort is an attempt to build bipartisan support for a draft bill ahead of a key vote in coming weeks.
"For anything to really get traction, it has to have bipartisan support. So we're very focused on how we as an organization, and as the industry, can help facilitate that," said Brett Quick, head of government affairs at the Crypto Council for Innovation. "It's not a perfect bill, but it's a really good starting point."
The securities and exchange commission (SEC) has recently brought a regulatory crackdown on crypto in the US, making it difficult for crypto companies to thrive. There has been such efforts to regulate the industry by the SEC in the past, but not with this level of intensity.
Crypto Companies Want Clarity
The lack of clarity on what is a security or commodity has led to the challenges the crypto industry is facing. Lobbyists therefore are focusing on a discussion draft bill by the Republican chairs of the House Financial Services and Agriculture committees, Patrick McHenry and Glenn Thompson respectively, which would define when a cryptocurrency is a security or a commodity.
Democrat lawmakers Maxine Waters and David Scott who are members of the committees are however skeptical about the bill being discussed.
"It proposes a cumbersome framework with inherent structural issues that will undermine the ability of our federal financial regulators to properly regulate and oversee an industry already rife with instability and fraud," Scott said in a statement concerning the bill.
Although cryptocurrencies are said to be commodities and not securities, the SEC has repeatedly said crypto assets are securities, even though it doesn't have a fixed definition for a security. Just recently, the commission named Solana, Polygon, Cardano, and a number of other cryptocurrencies as securities, leading to the delisting of these assets on many exchanges.
Will the Democrats Support Crypto
It isn't clear how it happened, but democrats have consistently been against cryptocurrencies right from the start. While crypto lobbyists are making attempts to woo them, it remains to be seen if the Democrats will agree to support crypto in the vote which is to come before the August recess.