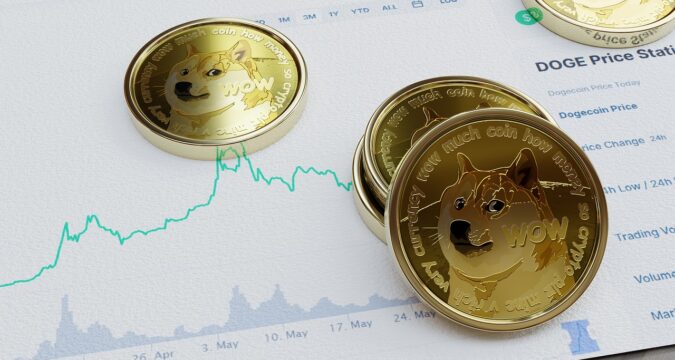 Dogecoin settled beneath the $0.20 support, battling to drop under the following support area at $0.1950.
The current price moves have Dogecoin struggling to settle beneath $0.1950 as BTC sees price pressure. The prominent digital coin, Bitcoin, has recently dropped under the $38,000 support. Moreover, BTC extends its downward movements as the entire crypto market turns bearish.
As the leader registers losses, other cryptocurrencies are trading lower today. Ethereum continues with its efforts to settle beneath $2,500 as XRP bears try to take the altcoin under the $0.70 zone.
Dogecoin tried to gain over $0.2150 in the early sessions of August but failed as the overall market lacked enough momentum to influence upside moves. Bitcoin receives pressure after failing to settle over the critical resistance level at $40,000.
For now, the meme coin does not have internal catalysts to activate price changes. For that reason, Dogecoin will rely on the broader market, which has had bears dominating since the past few sessions.
Technical Analysis
The leading canine-themed coin managed to trade below the $0.20 support zone. Moreover, Dogecoin extends its downside movements. While writing this article, DOGE tests the $0.1950 support. RSI hovers in the moderate region, having enough room to register more downward moves with supporting catalysts.
If DOGE settles beneath the $0.1950 support, it has chances to move to its following support zone at $0.1915. If the asset succeeds in testing this zone, it will progress towards $0.1865 and $0.1830 support with massive downward actions.
However, if the upside catalysts take DOGE high, the last support of $0.20 will act as the initial resistance for the meme asset. In scenarios where Dogecoin manages to stabilize over this zone, it will test the resistance area at $0.2025 and the 20-EMA.
Lucrative sessions to maintain DOGE over the $0.2025 and 20 EMA levels will translate to enough momentum for upsurges. With that, it will head to the following resistance around $0.2090.
A breach of this resistance will send the meme crypto to the resistance located near $0.2150, its recent highs.
For now, the coin relies on the actions in the overall market to register price moves towards either direction.
Do you think that Dogecoin will accumulate enough momentum to register uptrends? Comment below.