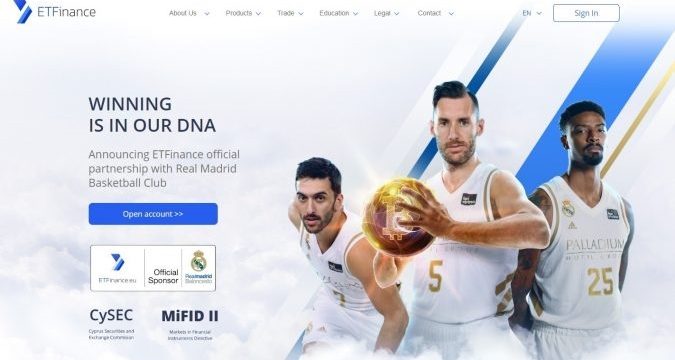 ETFinance Review
The quest to find legitimate forex and stockbrokers in the financial market has been a trending and recurring issue among market investors and traders. The issue with this is that there are tons of brokers in the market, but a lot of them have not even found or established their feet in the market, and as such cannot help any trader under their service.
A lot of scam brokers abound globally online, making market investors and traders lose their investments. Unfortunately, most of these scam platforms roll out juicy promises that are unreasonable and unattainable. Therefore, it is imperative for any trader that intends to be successful in the market to make a reasonable, well-informed choice of a brokerage firm that can ensure your financial and trading goals are established. Irrespective of your level in the financial market, either an experienced trader or beginner, you must choose a trader that can stand the test of time and take care of all trading contingencies on your behalf.
For this reason and many more, we will look into the services and activities of ETFinance to ascertain the reason for its relevance in the market.
ETFinance at a glance 
Broker

ETFinance.eu

Trading accounts

Real account: Silver account, gold account, platinum account.

Demo account.

Islamic account.

Location

Cyprus

Regulations

Cyprus securities and exchange commission (CySEC)

Parent company

Magnus FX Cyprus) limited

Customer support

Live chat, telephone, email. Twenty-four hours a day, five days a week.

Commissions

Zero

Trading platform

MetaTrader 4, and Web Trader.

Assets coverage

Major, minor, gold, silver, metals, stock, indices, oil, commodities, energies, CFDs, ETFs, cryptocurrencies.

Deposit methods

Visa card, MasterCard, Maestro, Neteller, and skrill.

Withdrawal methods

Visa card, MasterCard, Maestro, Neteller, and skrill.

Mobile trading platform

Yes (Android and iOS)

Web-based trading

Yes

Established

2018

Maximum leverage

1:30 ( retail clients)

1:500 (professional traders)

Minimum deposit

$250

Educational resources

Earnings calendar, economic calendar, eBooks, courses, tutorials, VOD, articles, and webinars.

Website language options

English, Italian, Spanish, Dutch, German, Portuguese, and Svenska languages.

Crypto products

Cardano (ADA), Bitcoin (BTC), Bitcoin gold (BTG), dash coin (DASH), Ethereum (ETH), Ethereum classic (ETC), Litecoin (LTC), Neo, Ripple (XRP), Zcash (ZEC), Monero (XMR), Tether (USDT), Swiss coin (SIC), and others.
ETFinance is a trading company established in 2018 to provide the firm foundation and platform for market traders to ensure that the traders and investors enjoy a pleasant trading experience. The company offers its clients around the world a unique trading experience that will help in building a healthy financial future.
This broker is based in Cyprus but serves its numerous clients globally, and offers a variety of trading products or assets, including forex, indices, commodities, stock, and cryptocurrency. This online broker also allows traders to trade CFDs on its trading platform.
Although the company is a relatively new broker in the industry, it has surpassed the expectation of many investors. This broker is already under the regulation of the Cyprus stock exchange commission (CySEC), giving it a strong foundation and high trust level.
The brokerage firm is also an award-winning trading company, providing clients with zero commission on their trades and all trading accounts.
ETFinance has a team of professional and well-trained customer care agents to help clients in any question or query they might have. This implies that the company has the interest of the clients at heart and is working towards ensuring that its clients and customers across the globe are satisfied, and their financial goals are attained.
The customer-centered nature of ETFinance has equally plunged the firm into taking into cognizance the needs of its numerous customers in terms of diverse trading options. Thus, the firm has provided multiple trading accounts and a learning platform for both beginners and experienced traders.
This broker has a different leverage option for its retail users and professional traders. In addition to this, the broker provides several asset options for clients to engage in their trading activities.
ETFinance understands the need to encourage more investors into financial market trading. Therefore the brokerage firm has provided a learning platform and a demo account for both newbies and professional traders. The demo trading platform is to help traders and investors try out new trading tactics and study market trends. The company believes that the experienced traders need a reliable, trusted, and established broker with a strong market presence to offer them the best services and tools for trading.
Meanwhile, in terms of trading assets, this brokerage company provides clients with multiple options to trade cryptocurrencies like Bitcoin (BTC), Ethereum (ETH), Litecoin (LTC), and other digital currencies.
Traders on the platform of this broker can access their trades and deals on the web, or trade on the go via the mobile trading options.
One special unique feature of this broker is the multiple language options on its website. ETFinance has made available seven different major language options for its global customers to interact with the services offered by the company. Clients can choose between the English language, Spanish language (Español), German language (Deutsch), Dutch language (Netherlands), Portuguese language (Portugal), Italian language (Italiano), and the Svenska language (Svenska).
Moreover, ETFinance has taken any security measures to guard against the activities of hackers on its platform. This is to ensure that the investments and assets of its clients around the world are safe and secure. The company has put in place several safety tools and shields and has subjected its activities to the scrutiny of regulatory authorities in Cyprus and other nations.
What unique services does ETFinance offer?
ETFinance regulations and license
ETFinance is a product of Magnum FX (Cyprus) Ltd, which is a leading investment firm in Cyprus, licensed, registered, and regulated by the CySEC since June 2018. As a member of the committee of the European Securities and Market Authority (ESMA), the CySEC is the supervisory and regulatory authority for investment services firms in Cyprus.
ETFinance is a brokerage firm under the regulation and supervision of reputable organizations. For those with trust issues, you will rest assured that this broker and its activities are under the watching eye of the Cyprus stock exchange commission (CySEC). The broker, being a public limited company listed on the stock exchange, is being regulated to ensure that the investments and funds of its clients are highly protected and secure in segregated accounts.
In addition to this, the funds of clients are insured against bankruptcy. The implication of this is that if there is unfortunate insolvency by the broker, the customers of the company can rest assured that they will be reimbursed for their funds and investments.
In addition, this broker is operating in line with the European Union (EU) regulations to ensure the high level of investor protection and the efficiency of the financial markets.
This broker also has the membership of the investor compensation fund for customers of Cyprus investment firms. ETFinance works with regulated payment service providers such as Trustly, Wirecard, and Isignthis, to ensure the security and safety of customers' funds and investments.
Security and safety
Apart from the fact that CySEC regulates this broker, it equally complies with the General Data Protection Regulation (GDPR) to protect the personal data of its clients across the globe. This regulation is in line with the privacy laws of various European nations on the movement of data outside the European Union (EU).
Furthermore, this broker has employed the use of the Know Your Customer (KYC) international policy, as a proof of identity for its clients. The KYC policy is a security measure to prevent fraudulent activities and protect the funds of the customers.
The company accepts the following documents as part of
The KYC verification:
Proof of identity – valid national passport or valid national ID card.

Proof of residence – any of the following documents can be accepted.
ü Utility bill
ü Tax bill
ü Bank statement
ü Reference letter
ü Affidavit
Award-winning trading platforms
The MetaTrader 4: ETFinance offers its clients the best trading experience in the market. In doing this, the broker provides an interactive, user-friendly, and easy to use trading platform. The trading firm offers the most popular trading platform, the Meta Trader 4.
The Metatrader 4 (MT4) is a popular trading platform among beginners and experienced traders with a wide range of interactive trading tools and features. The MT4 is available on the web platform and the mobile platform. The mt4 provides the traders with full access to all ETFinance's trading assets and instruments, as well as trading tools enabled by the broker.
The mt4 is a downloadable trading platform for web and mobile trading platforms. It has the following features:
It is easy to use and implement trading strategies.

It has analytical and technical indicators that can be used to make informed decisions for a successful trade. It also provides trading signals which you can use to copy the deal of other expert traders.

The mt4 has a mobile trading option which is available on both iOS and Android enabled smartphone or tablets. With this, you can trade anywhere and at any time.

The mt4 ensures the security and protection of your account with enhanced cyber security and data encryptions between users and the server.
The web trader: In addition to the mt4, ETFinance equally provides another trading platform called the web trader. The web trader or web-based trading platform provides traders with full access to the global trading arenas through any internet-enabled web browser. With the web-trader, you enjoy a user-friendly trading environment with vital tools and information in the market.
The web trader has the following unique features:
The web trader provides helpful analysis to help you make successful decisions.

The web trader provides easy navigation and orientation of assets, charts, and graphs.

It is accessible and available at any time of the day from Monday to Friday.

It has a provision for a demo account that will help you get acquainted with market trends and trading techniques.
The mobile trading App: With the mobile trading app of this broker, you can trade from any location and at any time of your choice and never miss any trading opportunity. The ETFinance mobile trading app brings all the global markets to the palm of your hands through the easy-t-use trading platform. The mobile app is designed for convenience and quick action. The app keeps you up to date with the latest market trends, reports, updates, and analysis of the market on your mobile device. It is free to download the mobile trading app, and it is compatible with all major mobile gadgets like the android phones and tablets, as well as the IPad and iPhones.
Different types of trading accounts
ETFinance provides multiple trading accounts for its customers, and with each upgrade comes a better trading condition. With three steps, you can open a trading account and enter the market for trading. That is, open a free account, make a deposit into your trading account, and start your trading in the market.
The following are the different trading accounts on the ETFinance platform:
The Silver Account: This is the first and the basic account, suitable for newbies in financial market trading. The account comes with a maximum leverage of 1:30 and up to 750 assets. With this account, you have access to full 10 hours support from 10 am to 8 pm GMT.
The Gold Account: This advanced account is suitable for experienced traders who can take some level of risks in the market. The account has a 1:30 maximum leverage for retail accounts and 1:400/1:500 maximum leverage for professional accounts. Holders of this account have access to a dedicated account manager, webinars, and videos, as well as zero percent on commissions.
The Platinum Account: This is the master account and is suitable for more experienced and seasoned traders in the market who can take significant risks. The account also has a maximum leverage of 1:30 for retail accounts and 1:500 maximum leverage for professional accounts. With this account, you have access to a dedicated account manager, webinars and videos, news alerts, free VPS, and a 50 percent swap discount. There is zero percent deposit commission on this platinum account, and up to 750 assets and instruments. In addition, the account comes with 24 hours a day, 5 days a week customer support.
Islamic Account: ETFinance offers a unique trading account for traders of the Islamic faith. The Islamic account is an interest-free trading account. Traders of Islamic faith are forbidden to pay or receive interests on their investment; thus, this broker imposes no additional charges. The Islamic trading account comes with a maximum leverage of up to 1:400 for professional clients with the same trading environment and features with other trading accounts. The account also comes with full support from a dedicated account manager.
Superb customer support service
ETFinance customer support is available from Monday to Friday (24 hours and five days a week). The broker has a team of professional, courteous, and well-informed customer service agents that provide professional and technical support for its traders. Clients can contact the broker for quick response through the telephone, live chat support, email, or ticket form on the website.
ETFinance educational resources
ETFinance provides an opportunity for clients to have access to unique educational resources. These resources are useful and important tools that help trades in the market and are suitable for beginners and experienced traders.
The ETFinance educational resources are webinars, economic calendar, earning calendar, various articles on trading and market, eBook, courses, pictorials, and video on demand (VOD). These are evergreen resources that are sold by some brokers, but ETFinance decides to make it available on its website with free access.
Conclusion
The reliability of ETFinance as a reputable and responsible broker is no longer a debatable issue. The above features have proved that the broker is solid and reliable. The safety and security of funds of its clients are paramount, and the trading company has put in place security measures to ensure that the clients are satisfied.
The regulations provided on the services of the firm by CySEC is an indication that it is a legitimate company and clients can rest assured of the safety of their funds.
The company has equally made easy the deposit of funds to trading accounts. Similarly, withdrawal of funds is made with ease through visa card, MasterCard, maestro, and skrill.
The broker has a wide range of assets index that traders can choose from, ranging from forex (major and minor pairs), crypto pairs (cryptocurrency against major currencies), indices, commodities, and stocks.