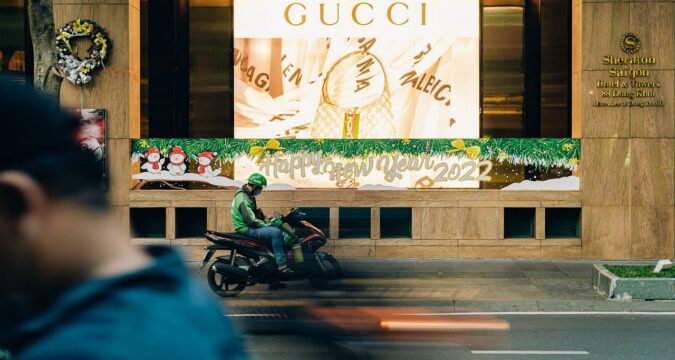 Gucci, one of the largest luxury brands in the world has made one of the most unusual announcements for its consumers. Now, the consumers at Gucci can buy luxury products using cryptocurrencies.
Whenever such announcements are made, they are mainly in favor of cryptocurrencies. It is because it is mainly the cryptocurrency companies always aiming to become part of the mainstream industry.
While such partnerships always have a positive outcome for the cryptocurrency companies, they have the same outcome for the mainstream companies who adopt cryptocurrencies.
Gucci Goes Crypto
This time, Gucci is one of the mainstream and major luxury brand retailers that has adopted cryptocurrencies. For now, Gucci has not integrated cryptocurrencies for all of its locations. Instead, it has decided to offer such facilities at selected locations.
Gucci executives have confirmed they have already launched the pilot project for accepting cryptocurrencies. The pilot project will be carried out at multiple locations. These locations include Las Vegas, Atlanta, Miami, Los Angeles, and New York.
The executives were extremely delighted when they made the announcement. They confirmed that they are planning to go live with accepting cryptocurrencies at particular locations by the end of May.
North American Expansion of Gucci
The officials at Gucci have also confirmed that they are planning to expand their crypto integration in the entire North American region. However, before doing that, they will collect data and the adoption rate of cryptocurrencies at particular locations.
If they observe that the sales through cryptocurrencies meet the approval criteria, they will proceed with the expansion. If all goes as planned, the same services will be made available for the North American customers by the end of summer.
Cryptocurrencies Gucci Plans on Accepting
Just like other mainstream companies, Gucci has also selected the major cryptocurrencies to accept payments from. These cryptocurrencies include Ethereum (ETH) and Bitcoin (BTC).
Apart from ETH and BTC, Gucci is also aiming to accept stablecoins. These stablecoins include BUSD, DAI, USDP, USDC, and GUSD. Other cryptocurrencies Gucci has also added to its mode of payments are Dogecoin (DOGE) and ShibaInu (SHIB).
Gucci officials have confirmed that together, they are planning to accept payments from more than 10 cryptocurrencies.
Achievement for Gucci
With the recent developments, Gucci has become the first luxury brands company that accepts cryptocurrencies. Gucci officials have also hinted that adopting cryptocurrencies is not the only thing they are aiming to achieve in the particular niche.
They are also aiming to move their platform over to Web 3.0. Gucci has also set foot into the cryptocurrency sector by launching its digital store known as Gucci Vault.
Investors must keep an eye on Gucci's stocks as they may spike after the announcement of adopting cryptocurrencies. More news from Gucci surrounding more adoptions from within the crypto sector would help stock prices for the luxury brand grow higher.