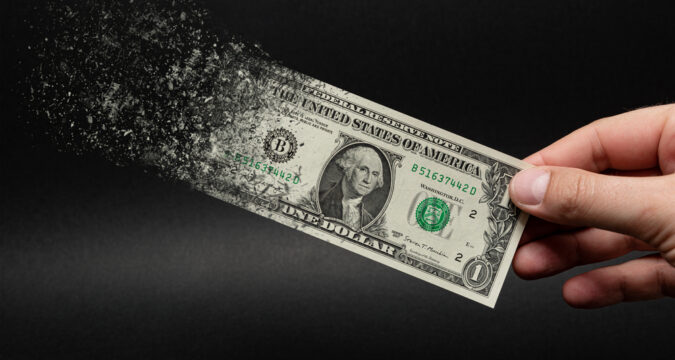 The value of the dollar has edged lower in the recent trading session. It was the European trading session that first saw the value of the dollar going down.
The USD Recorded a Sell Off
The USD recorded a massive sell off after the minutes from the US Feds' November meeting were made public.
The decision made in the November Federal Reserve meeting was a good signal for the bearish USD traders. The minutes revealed that the Feds have decided to slow down on the interest rate hikes.
This meant that the interest rates will not be increased by the Feds as aggressively as they had been doing since mid of June 2022.
The DXY Fell 0.1%
After the minutes from the Feds were made public, the value of the dollar started to edge down. In the recent trading session, the US dollar index (DXY) has recorded a downtrend.
It has reportedly dipped 0.1% in the latest trading session. Following the dip, the value of the dollar versus the six-basket currencies is 105.933.
Right after the Feds minutes were shared, a major sell-off was witnessed for the USD. It seemed that the majority of the investors were waiting for the moment and were prepared to make their move.
Most of the investors had already anticipated that the Feds will most likely lower the interest rates. If not lower them in the current month, they may lower them in the upcoming month.
Now, the investors know that the month of December will not be as strong as the ongoing months for the US dollar. Therefore, the investors would continue supporting other currencies against the USD.
In the upcoming months, the greenback is expected to cover its losses and complete its natural cycle. When that happens, the dollar's value will record a natural growth.
The dollar is expected to gain strength over time which would help the value of the greenback move higher.
So far, the interest rate decisions made by the Feds are in line with the expectations of the market analysts.
Expected Interest Rates Hike
November saw the fourth consecutive increase of the interest rates by 75 bps. However, there is a high chance that the Feds may increase the December interest rates by 50 bps or less.
The USD Versus Major Currencies
Following the latest update from the Feds, the value of the EUR/USD pair has gained 0.1% growth. The GBP/USD pair has also edged higher, recording a 0.2% surge in the latest trading session.
The GBP value against the USD after the latest developments is 1.2078. The value of the USD has dipped 0.6% against the JPY.
The AUD has risen 0.3% while the NZD has risen 0.1% versus the USD. The USD has also recorded a 0.3% drop against the CNY.