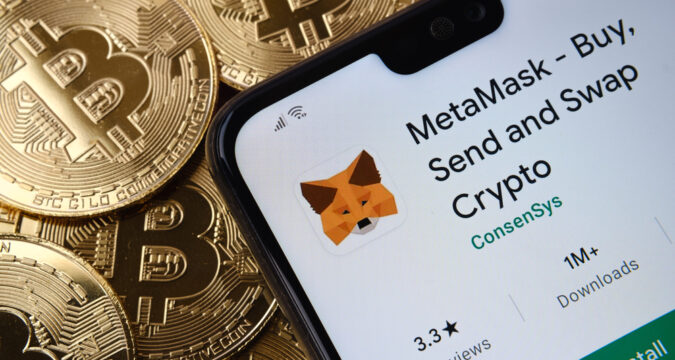 Nigeria's cryptocurrency investors can now enjoy easy access to self-custody crypto purchases as a major cryptocurrency wallet – MetaMask extends direct on-ramps to local financial institutions. On Tuesday, ConsenSys, MetaMask's parent company, announced a new partnership with MoonPay, a cryptocurrency fintech.
The partnership allows users to buy cryptocurrency through swift bank transfers in Nigeria. The integration feature is accessible within the Portfolio DApp and MetaMask mobile.
Hence, buying cryptocurrency in Nigeria has become more straightforward and cost-effective, as it eliminates the use of debit or credit cards. Before MetaMask collaborated with MoonPay, purchasing cryptocurrency was a time-consuming and expensive procedure for its customers in Nigeria, according to Lorenzo Santos–product manager at MetaMask.
He also explained that "despite Moonpay having a feature for card integration, approximately 90% of efforts to purchase cryptocurrency using a debit or credit card were unsuccessful."
The Benefit Of MetaMask Integration 
MetaMask's recent integration with local financial institutions supports bank transfers and makes cryptocurrency purchases faster and more cost-effective. Thus, users can make seamless cryptocurrency purchases without resorting to centralized exchanges.
In a recent interview, Zeeshan Feroz – MoonPay's Chief Strategist and Product Officer, stated that the collaboration would lower charges for direct cryptocurrency acquisition from 90% to 30% in Nigeria. According to him, the service will be available in every bank via bank transfers — the most commonly utilized payment mode in the e-commerce industry of Nigeria.
Nigeria has become a significant market for MetaMask despite issues with cryptocurrency on-ramps. According to Lorenzo Santos, Nigeria is amongst the top 10 nations in the category of metamask.io visitors and has ranked 3rd in MetaMask's monthly active customers in the past month.
Nigeria ranks among the top twenty countries in the world in crypto adoption, per a report from the GCAI's Chainalysis in 2022. Despite the Central Bank of Nigeria (CBN) prohibiting financial institutions from providing services to cryptocurrency exchanges in Feb. 2021, it has been reported that approximately 35 percent of Nigerians aged between 18 to 60 engaged in trading or owned crypto in 2022.
Local media outlets reported in Dec. 2022 that the Nigerian government was getting ready to approve a law acknowledging the use of Bitcoin and other cryptos to align with "global norms." Recently, the CEO of Moonpay expressed a strong desire to achieve widespread adoption of NFTs, emphasizing the importance of passing the "Mum Test."
Ivan Soto-Wright–MoonPay CEO, aims to broaden the reach of NFTs and cryptocurrency by collaborating with well-known brands and enhancing user experience. Ivan is making these moves to measure the extent of NFTs' popularity.