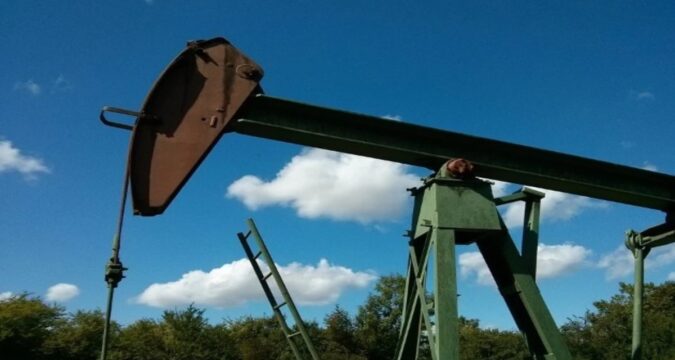 Crude oil has been falling ever since it reached a peak price of $78 three months ago. Today's oil price action proves that buyers have resumed buying it actively.
Instability In Bullish Momentum
However, they couldn't sustain the momentum. Every attempt oil makes to maintain a bullish run is met with strong resistance. Thus, the highs are gradually reducing. As of July 2021, US west teas intermediate (WTI) crude futures declined to $67 price levels on the back of the news that the organization of petroleum exporting countries (OPEC)+ is gradually reducing its oil production with a plan to increase it beginning from this month.
However, COVID-19 restrictions aren't being lifted in some parts of Europe and America. Thus, the major worry is that this increased OPEC production won't still be enough. However, towards the end of last month, the daily chart frame showed that it used the 100 simple moving average (SMA) as support, with US oil surging back over the $75 price level.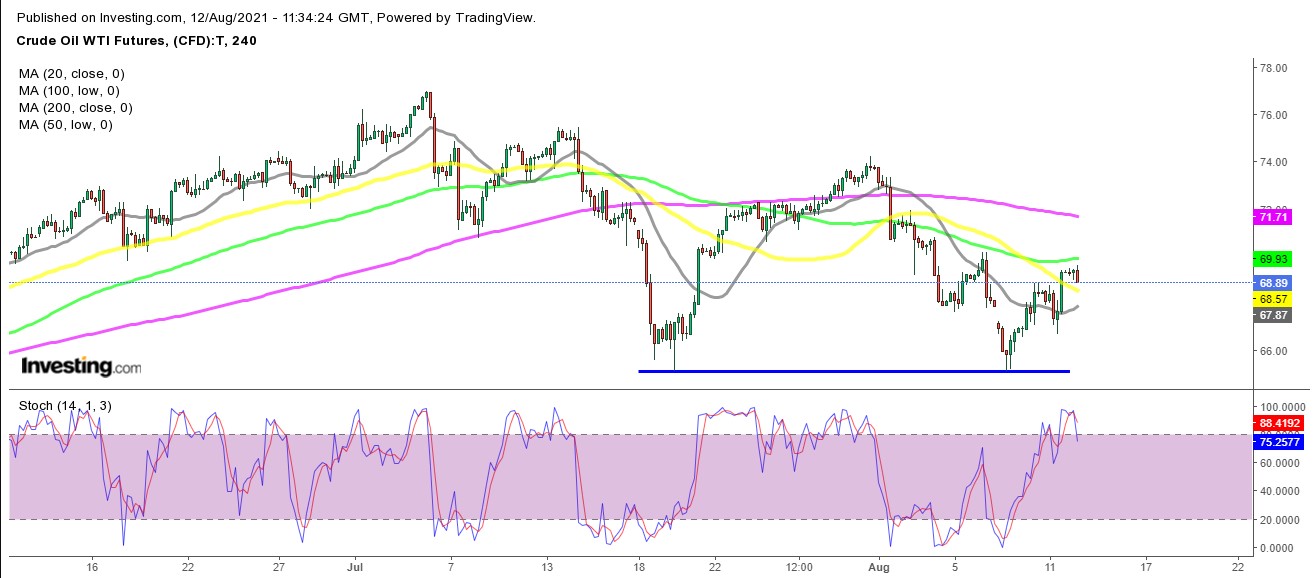 Crude oil WTI futures chart. Source: Investing.com
Biden Pleads With OPEC+
So far this month, the bears are back and are pushing oil prices down to the support range around the 100 24-hour SMA. However, this wasn't an ideal break because the candlestick could not close below that price range. Then, oil rallied to create a sell on the forex indicators. The 4-hour chart (from the chart above) shows that it is using the 20 SMA as resistance.
Even though it maintained this rally till it reached the $70 price, it eventually dipped slightly to about $66.67 following the suggestion from Washington that OPEC+ need to increase production efforts to reverse the increasing gas prices. The US energy information administration (EIA) data revealed that there is an average of 21 million barrels per day (BPD) in global fuel demand for about a month now – a figure similar to that of two years. 
The data also revealed that US refiners had raised their level of processed crude for the past seven days, which might be the additional reason for the little rise in oil price as seen today. After that news, US WTI declined slightly, but the decline was brief, and it shot up back almost immediately.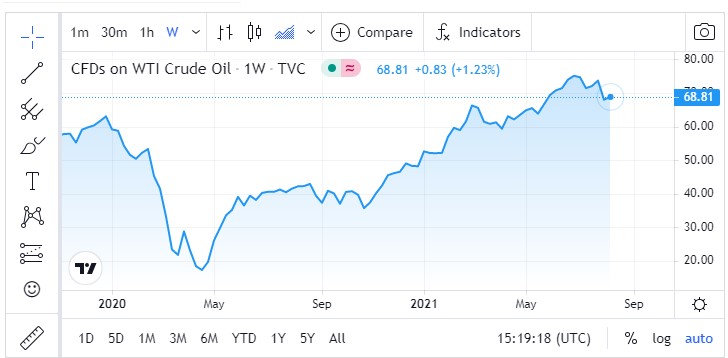 Contracts for differences (CFD) on WTI crude oil. Source: TradingView
The actual reality of what OPEC would do
This reaction seems a little over the top because it is a proven fact that OPEC+ won't reverse its decision at the command or insinuation from Biden or any US government spokesperson. While it is true that some politicking is involved, even those unrelated to oil, it is clear that OPEC+ will only take Biden's plea at face value and do his bidding.
Well, oil is rising, but it isn't rising as expected; it continues to trade around a range, creating lower peak prices within that same region. This isn't a good sign for oil. So, we maintain our sell signal.