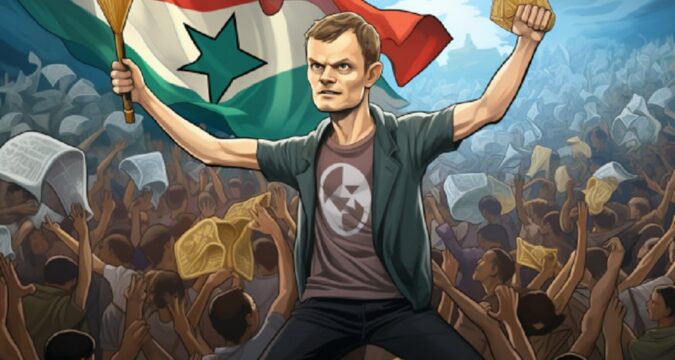 The co-founder and CEO of Ethereum, Vitalik Buterin has expressed concern for projects such as Solana that were targeted in the recent crackdown by the securities and exchange commission (SEC) in the US. Vitalik mentioned this in response to a question during a Twitter AMA.
He said he felt bad that these projects have been targeted by the SEC in its enforcement action against crypto exchanges like Binance and Coinbase.
"The one comment I'll make is that I feel bad that Solana and other projects are getting hit in this way," Buterin wrote while responding to a question from Paradigm co-founder Matt Huang about how he feels about the U.S. policy approach to crypto. "They don't deserve it, and if Ethereum ends up 'winning' through all other blockchains getting kicked off exchanges, that's not an honorable way to win, and in the long term probably isn't even a victory."
The SEC went after both Binance, and then Coinbase within 24 hours, dragging them to court on similar allegations of violating securities laws in the country. Following that action, the SEC named some crypto assets among including Solana, Polygon, Cardano, and BNB as securities.
Crypto exchanges started delisting the assets immediately in order to not attract the regulator's attention. As a result, the prices of the assets saw a massive decline after a wave of sell-off. It isn't clear why the SEC picked out these particular assets, since it has not been consistent with its definition of a security.
SEC's Approach Killing Innovation
The SEC has been criticized severally for adopting such a brutal approach to enforcement in the US. Not only advocates from the crypto industry have spoken out against this approach, but also legislators. Congressional republicans had in April criticized the SEC chairman Gary Gensler in a letter, citing the lack of clear guidance on crypto.
"Given an NSE can only list securities that have been offered in compliance with the securities laws, the inability to register makes the current NSE framework ill-suited for digital asset trading platforms. Moreover, the lack of clarity provided by the SEC as to what digital assets are considered securities also limits what an NSE can list," the letter said.
The legislators have also accused Gensler of using the SEC to kill crypto innovation in the country as companies were already fleeing the country to more friendly jurisdictions.
Cardano, Others Embraced in Indonesia
As the US is going after Cardano, Solana, and the others as securities, regulators in Indonesia have approved the listing and trading of such assets as commodities. The regulators gave the approval after thorough investigation and examining of the assets using many parameters to ensure that they were fit for investors in the country.