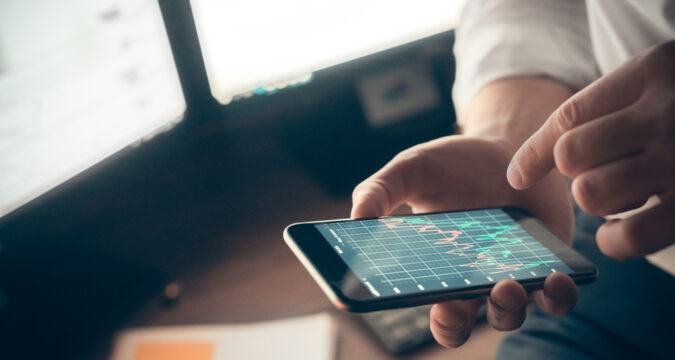 AIRSOFT Review

Since it began providing their services, AIRSOFT Forex Technology Provider has built a solid reputation as a leading provider of software solutions. Although it does not just offer Forex-related services, it also supports CFDs and cryptocurrency. Its services are mostly connected to forex. You will learn about the services offered by AIRSOFT in this review as well as some of its advantages.
AIRSOFT – Demo Account
For each of the aforementioned three options, AIRSOFT offers a demo account. Any visitor can request a demo by completing a brief form. The applicant has to include the following details on the application:
His full name, his email, his country, his phone number, and a message.
AIRSOFT – Broker Solutions
Both its institutional and retail clients can choose from three different all-in-one brokerage service technologies offered by AIRSOFT. These bundles comprise CFD-FOREX, CRYPTO, and CHRONO. Platforms MT4 & MT5 can also be combined with the packages.
CFD-Forex
For trading FX and Contracts for Differences, AIRSOFT's CFD-Forex function is quite effective. The traders have access to more than 5,000 valuable assets through many exchanges. You may combine a number of functions, such as analysis, charting, and quick trade execution, with the use of this function on your platforms.
CHRONO
With the help of CHRONO, a unique feature of AIRSOFT, traders may execute well-timed short-term transactions to benefit as much as possible from unstable assets. In addition to being utilized as a brokerage solution, this capability may be linked with other trading platforms. This function serves as a magnet for brokerage firms to draw in additional users and clients.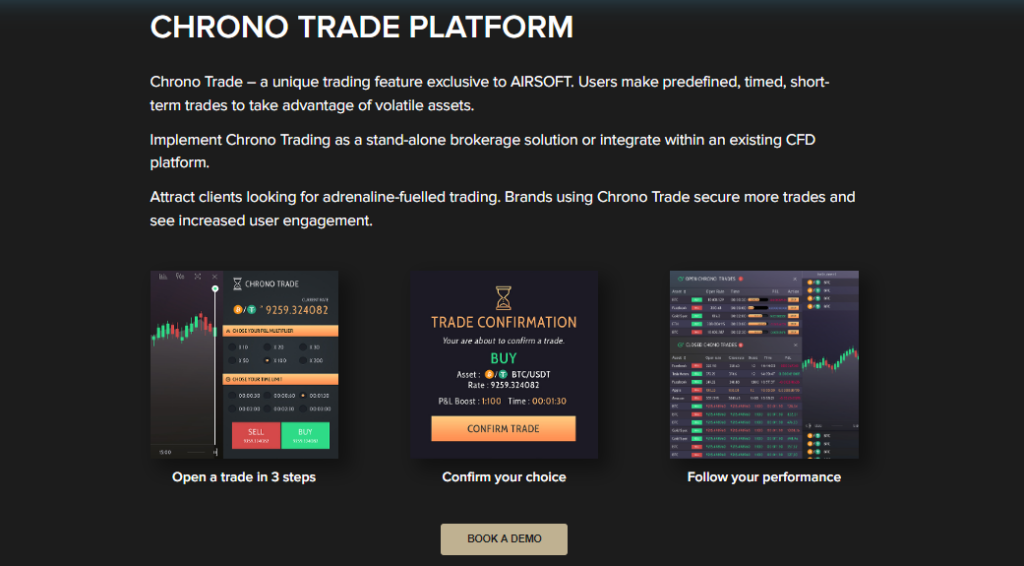 Cryptos
Trading cryptocurrencies is trickier than trading other types of assets. It implies that in order to get greater outcomes, traders need a suitable and trustworthy technology solution. Your platform will have improved functionality thanks to the incorporation of this function by AIRSOFT.
In your own environment that you may customize, you will be able to offer more than 1 000 tradeable crypto tokens. It also offers a built-in, fully working cryptocurrency wallet.1
AIRSOFT – Client Support
Anyone interested in AIRSOFT solutions may easily get in touch with the platform to discuss their intended brokerage project. Both the platform's contact information and email address may be used to contact it. Customer support services employ the same methods.
Its staff members are knowledgeable and capable of responding to any form of inquiry. The staff of this corporation will undoubtedly answer your requiry in a matter of minutes – 24/7. Additionally, you can follow AIRSOFT on a variety of social networking sites including Twitter, Linkedin, Facebook, and Instagram.
AIRSOFT – News Area
Additionally, AIRSOFT maintains a newsroom where it updates its customers on collaborations, new features and innovations, and how-to articles. It implies that you won't need to look for reliable news on other sites.
A photo gallery that is related to the news section also has frequent updates of images documenting AIRSOFT's activities. Additionally, you may sign up for its monthly newsletter to get the news in your email free of charge.
AIRSOFT – Phone Application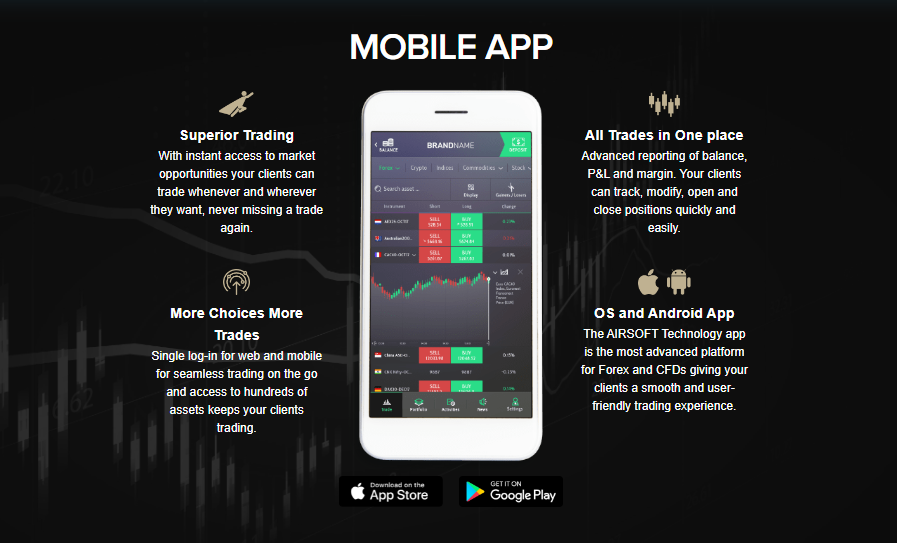 For both Android & Apple users, AIRSOFT offers a fantastic mobile app. Extra features like immediate access to chances are offered with the mobile app. Users of the platform cannot miss a trading chance thanks to the app.
The app is the ideal platform for trading everything in one location. The software operates smoothly and is compatible with all sizes and types of smartphones.
Verdict
AIRSOFT is a terrific choice for you if you're seeking for the ideal technology to adorn your trading platform. It is simple to suggest for any reviewer given the variety of products, assistance, and sample account. It is suggested to go to the AIRSOFT site for a greater understanding and more details.