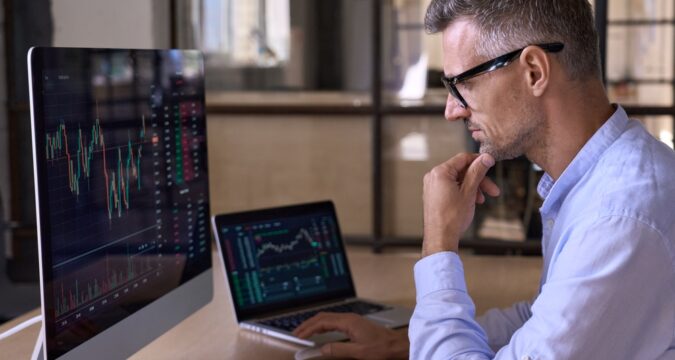 Although the crypto market conditions are tense at the moment, this doesn't stop aspiring traders from entering this dynamic world. Individuals are actively looking for dependable crypto brands that can provide them with all the necessary essentials and guide them throughout their journey.
Considering this, many brokers are offering innovative solutions to expand their client base. Avex Market is a broker that claims to offer a futuristic online trading platform and ensure its clients' account safety. Let's evaluate if the assertions made are valid in this review section.
About the brand
Avex Market is a crypto brand that is crafted by expert software developers and crypto market analysts to provide a seamless crypto trading experience to traders of all experience levels. The broker focuses on securing its clients' accounts by implementing ultra-modern security policies and also offers easy access to exotic and trendy digital asset pairs. The brand also provides a robust and futuristic online platform that lets traders buy or sell cryptocurrencies without any hassles.
Trading platform
Avex Market provides a robust web trading platform with a user-friendly interface and incorporates sophisticated technology that allows its customers to trade several crypto coins seamlessly. In addition, the platform is well-equipped with advanced charts, technical indicators, oscillators, tools for market analysis, retracement methods, and real-time market news. Moreover, the platform is available on both desktop and mobile devices and is supported by various operating systems.
Account security
The brand maintains the account safety of its traders by utilizing advanced safety measures to prevent any loss of private data. Avex Market dedicatedly implements a few security policies like anti-money laundering (AML) and know your client (KYC) to keep all possible illegal activities at bay. Furthermore, the broker also follows stringent identity and payment verification processes to ensure the safety of funds and personal information.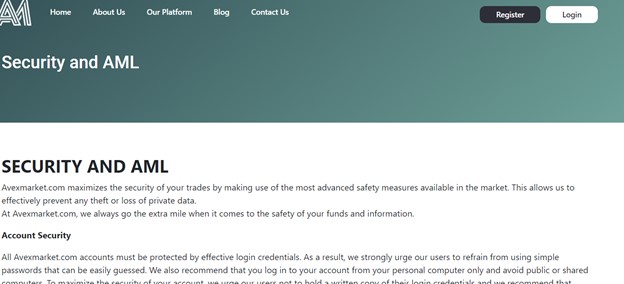 Customer support
In terms of customer support, clients can contact the support team via email seven days a week. Moreover, by filling out a simple form, traders can also text their general issues to the team related to the platform, account details, personal details, etc. However, the broker does not provide telephonic or live chat support currently.
Pros
Easily accessible web-based platform
Dedicated customer support
Stringent security measures
Advanced trading interface
Informative blog
Cons
The brand doesn't offer educational resources
No information regarding trading account types
Lack telephonic and live chat support
Summary
After evaluating all the offerings mentioned above, it is right to conclude that Avex Market is a reliable and transparent broker that offers its advanced web-based trading platform to trade several crypto coins. Additionally, the brand ensures its customers' account security by incorporating stringent policies and identity verification processes to prevent any possible loss of personal data. Furthermore, the brand provides customer support daily, which benefits traders who prefer weekend trading.