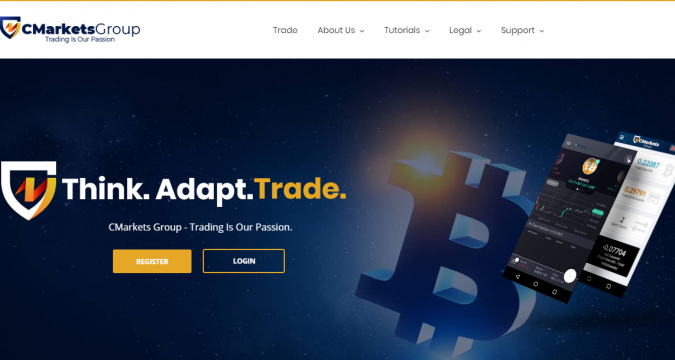 CMarkets Group Review
The world of online trading is at a crossroads due to the COVID-19 pandemic that had rattled financial markets and raised questions over how the global economy will manage to get past this challenge. Because of that, traders find themselves forced to diversify their portfolio with new assets and that's where cryptocurrencies came to play a key role.
Cryptocurrency trading is a growing trend and a derivatives market had taken shape, as a result. CMarkets Group is a promising online brand that wants to provide a new trading experience for traders interested in assets based on cryptocurrencies.
CMarkets Group website offering access to 100+ cryptocurrency contracts, ranging from popular tokens like BTC, ETH, or LTC, to smaller altcoins like STR, OMG, or XMR. Unlike typical CFD brokers that offer a wide range of assets (FX, stocks, indices, commodities, etc.), this one is focused solely on cryptocurrencies is, as a result, had developed an ecosystem that's best suited for the crypto world.

At the core of CMarkets Group's offer is the proprietary trading software SIRIX, a platform that's been created to meet the challenges of the cryptocurrency market. With both typical and enhanced features (like Social Trading), SIRIX wants to become a usual trading tool for traders, assisting them 24/7. That's possible because it can be used via the browser, desktop, or from any Android or iOS device.
Trading conditions are above the market average since traders can use up to 1:500 leverage. Flexible spreads and decent swap levels make trading with CMarkets Group affordable.
Depending on how much money they can deposit, clients working with the broker can choose between Starter, Advanced, Pro, or Expert accounts. Each comes with a different series of features that should make the trading process more pleasant for customers.
CMarkets Group Overview
CMarkets Group is a fresh trading brand, founded in 2020 by Click World Ltd. Headquartered in the Commonwealth of Dominica, the company is promising to provide premium trading conditions for customers wanting to trade assets based on cryptocurrencies. The website had been created to allow traders from all over the world to connect and enjoy a clear platform to conduct crypto trading safely and easily.
The safety of trading with CMarkets Group is ensured because funds and personal information are being kept in one of the industry's leading systems which operated through offline signatures to ensure the safety of each transaction. The company also provides clients with all the tools to start trading, as well as professional advisement to aspiring new traders.
No surprise fees make traders know how much they'll have to pay for each transaction or withdrawal. Full details about trading costs can be found in the company's terms & conditions. CMarkets Group wants to be a reliable partner for customers and as a result, had come out with an offer that aims to be more competitive as compared to the current industry standards.
SIRIX –proprietary trading software for cryptocurrencies
Differentiating from all competitors is one of the main goals for CMarkets Group, which is why the brand had developed its advanced trading software – SIRIX.
SIRIX aimed to be the daily tool for any cryptocurrency trader looking for a friendly user interface and smooth experience. This is a fast and secure platform, updated with recent insights and latest market trends.
CMarkets Group uses a smart algorithm and the latest technology in terms of AI learning for trades to predict how the market will shape. The most important SIRIX feature is by far the Social Trading section.
The Social trading feature is the place where less experienced clients can register and start learning from professional traders. Only a few other brokers are providing such capabilities, and this should give CMarkets Group an important advantage.

At the same time, SIRIX comes in a mobile version, compatible with both Android and iOS devices. The mobile app is designed to be a reliable tool while trading on the go. Due to its volatility, the cryptocurrency market requires traders to constantly stay connected to the latest developments. With SIRIX mobile, that's no longer an issue.
Cryptocurrency Trading Conditions
If the common broker allows trading on cryptocurrencies with a maximum leverage of 1:5, CMarkets Group had raised the bar to a whole different level, since its clients can trade with up to 1:500 leverage.
Spreads are variable and depend on the type of contract involved. Popular contracts will have very small spreads, while small altcoins will have higher spreads, due to the low liquidity. Since we're talking about leveraged cryto trading, overnight swaps represent the second trading cost.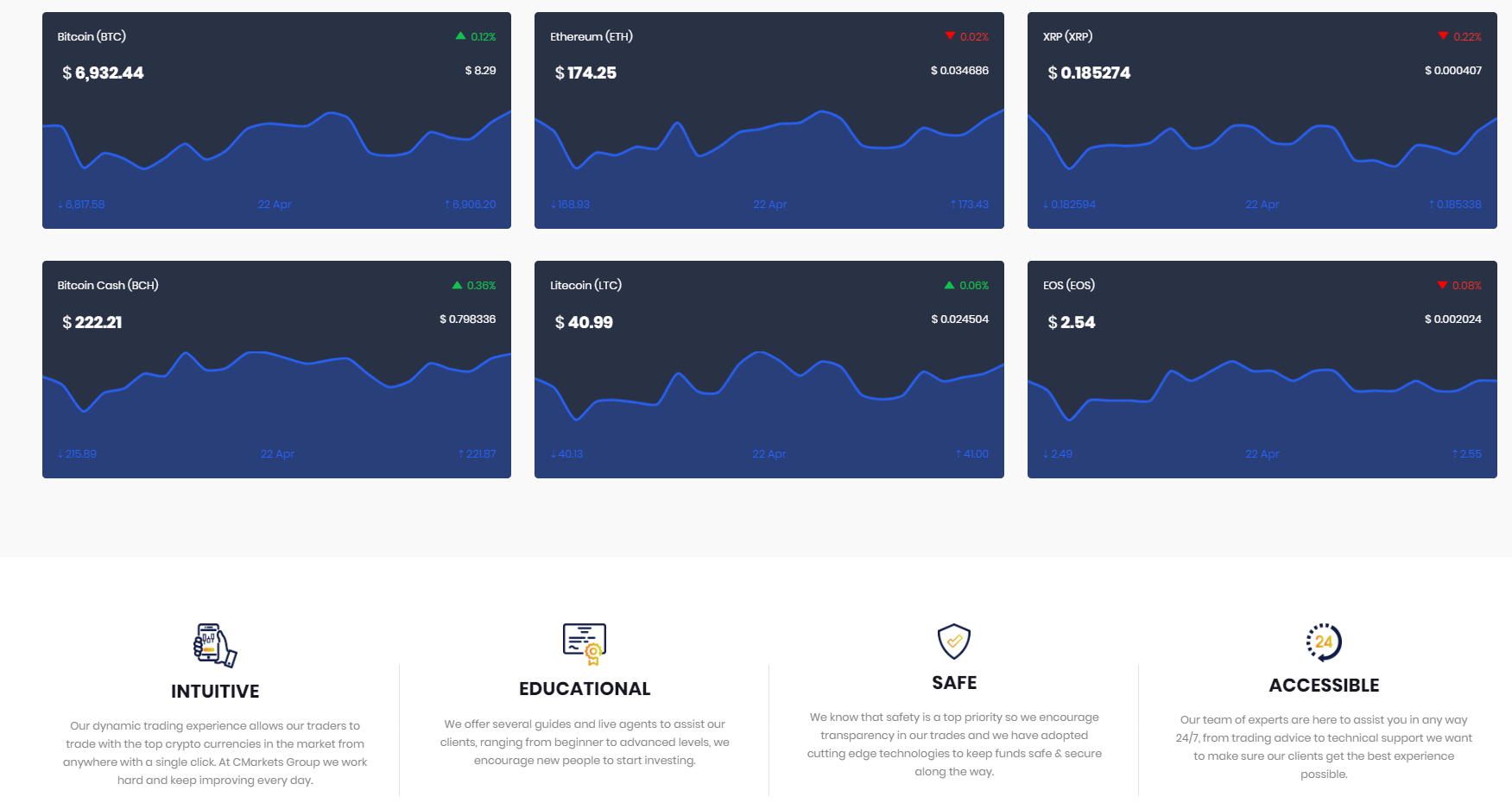 As already mentioned, at CMarkets Group, traders can trade more than 100 different cryptocurrency contracts. Bitcoin, Ether, Litecoin. Dash, Monero, OMG, Ripple, IOTA, Ethereum Classic, Stellar, Tether, ZCash, and plenty of other tokens can be traded against Euro, US dollar, or USDT. At the same time, the company facilitates trading on crypto-to-crypto contracts.
Educational Resources
Education is one of the core values at CMarkets Group, the main reason why the company is providing access to a wide range of materials. Tutorials, live webinars, expert advisers, assistance from account managers, in-depth market research, and weekly reports, are just of a few of the resources that can help traders gain new knowledge for their trading activity. It's important to mention that access to educational resources will depend on the account type chosen by each client.
Final Thoughts
Considering all the features described, CMarkets Group is a cryptocurrency trading broker that comes with a very promising offer for any potential customers. Traders who want to trade cryptocurrency derivatives will find plenty of useful tools and features.
At the same time, the company is using some of the latest technology to make trading smooth and affordable even for beginners. As compared to other competitors, CMarkets Group stands out when it comes to asset coverage, providing access to more than 100 cryptocurrency-based contracts.  Traders will be able to find opportunities on a wide range of tokens and are sure to not miss any trade
Summary
Reviewer
Review Date
Reviewed Platform
Author Rating