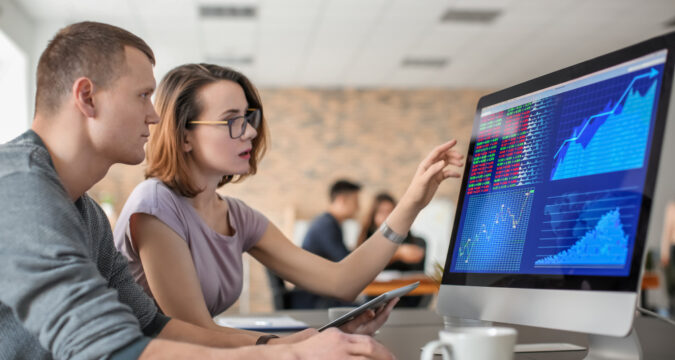 It was back in April of 2021 when Coinbase had proceeded with a public launch. With this move, Coinbase had become the first-ever cryptocurrency exchange to have gone with a public listing. Unfortunately, the exchange faced a downfall with its share prices the moment it launched in the public market.
The downtrend Coinbase experienced was due to the sudden plunge of the entire cryptocurrency industry. As the market capitalization of the entire crypto-verse was slashed on a large scale, the exchange also ended up losing its worth in the market.
Therefore, the exchange had to suffer the loss and law low until the situation could become favorable for Coinbase. Amidst all the crypto-crisis, Coinbase went through the launch of several products and different acquisitions in order to retain itself in the stock exchange market.
Slowly and steadily, the Coinbase exchange started making a comeback in terms of its share prices in the market. The exchange was finally growing positive with the passage of time but it had not readied itself for another obstacle it was soon going to face.
According to reports, a notice has been sent by the US Securities and Exchange Commission (SEC) to Coinbase. The sources suggest that the notice sent to the exchange is a possible action of enforcement by the US SEC against the exchange.
The notice that the US SEC has sent over to Coinbase is addressing the interest-earning product that is to be operated by the exchange in the upcoming weeks.
The exchange has revealed that on Wednesday, September 1, 2021, the exchange has received a Wells notice, which has been sent by the US SEC. In the notice, it has been revealed that the US SEC has the intention of proceeding with a lawsuit against the product, thus, against the exchange.
Coinbase has revealed that the particular product that has led to the US SEC taking such against it is called Coinbase Lend. This information has been shared by the exchange on Tuesday, September 7, 2021, through a blog post at night.
As the media sources tried contacting the US SEC for a comment on the matter, the particular regulator did not respond to any requests.
Since the announcement of the US SEC suing the exchange, the share prices of Coinbase have experienced 2.5% on Wednesday, September 8, 2021 trading.
On the other hand, Paul Grewal, the chief legal officer of Coinbase has revealed that they had no idea that the US SEC would resort to taking such against their exchange.
He stated that the US SEC has reacted this way even though they have been approaching the regulator to engage with them for a dialogue.