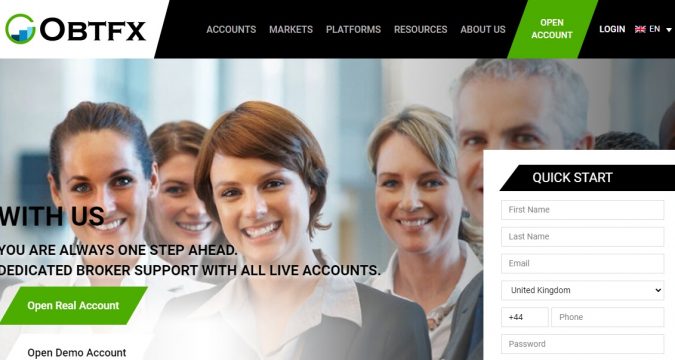 OBTFX Review

Trading financial instruments is considered to be one of the most profitable activities in the world. With the advent of the internet, trading has become a lot more simplified and convenient because people no longer need to actually visit the markets to get started. These days, you can trade online, whether from your office, home or anywhere else. In addition, trading offers people thousands of opportunities because there is not just one instrument that you can trade; there are literally countless financial instruments that can be bought and sold and their price movements can generate significant profits.
Even if you have no prior experience, you can still make a move in the trading market. All you have to do is find a brokerage to help you get started. It is not possible to do this without a broker because they are responsible for providing you a trading platform, the assets to trade and most importantly, the tools and resources required to do so. Luckily, as trading gained popularity and drew the interest of people all around the globe, a number of online brokers were established. Thus, if you run a Google search, you will easily find a variety of brokerages that are offering their services in the market.
This is certainly good news for you because it means that you can explore several options and choose the one that works best for you. However, it is necessary to exercise caution when you are looking at different brokerages because not all of them are legitimate. Online scams are rampant in the market and some fake brokers have been set up to confuse people and take advantage of them. These 'brokers' are only interested in taking your initial deposits or to steal your personal information, which can be sold to third parties or used for criminal activities.
Hence, it is a good idea to be cautious and weigh a broker carefully before you make the decision to sign up with them. To make a smart decision, your best bet is to study each of the features of a broker carefully and determine if it is what you want it to be. For instance, you should check their asset list to ensure they are offering the instruments you wish to trade or else it wouldn't make sense for you to create an account with them. It only saves you from the hassle of switching brokers in the future, which can be a time consuming process.
Amongst the various brokers operating in the market, you will come across OBTFX. Based in St. Vincent and the Grenadines, OBTFX has dedicated itself to providing its clients with a trading environment through which they can generate the returns they have dreamt of. They are not just in it to make money and want to facilitate their customers in order to help them trade the instrument of their choice easily and quickly.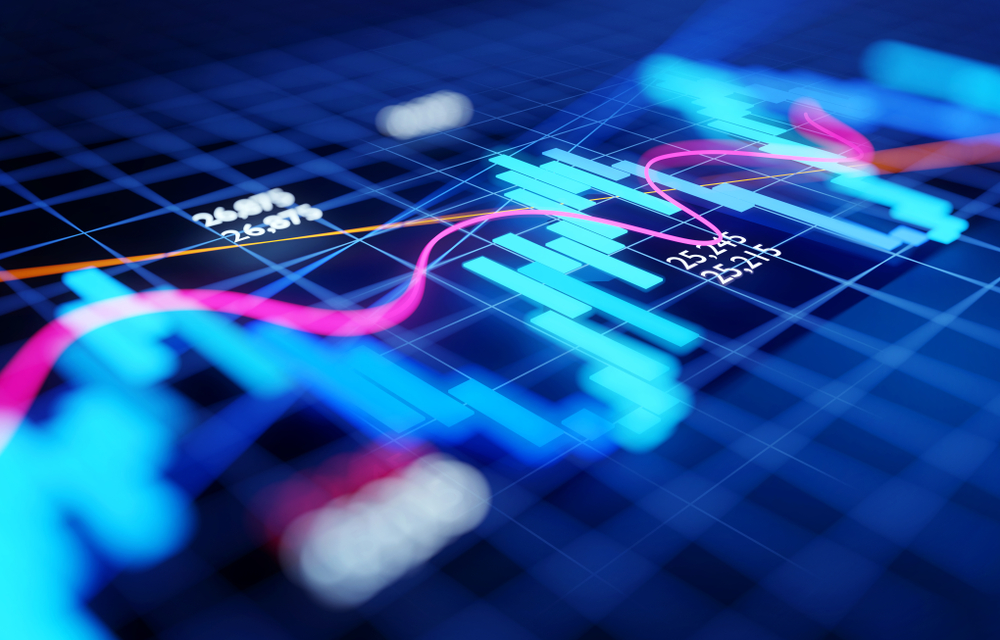 How does this broker accomplish their goal? Check out their services below:
Trading Assets at OBTFX
The first thing you need to find out about a broker is the asset index they are offering. When you make up your mind to start trading, there is a good chance that you have some specific instruments in mind. Therefore, before you choose a broker, you should make sure their index includes the assets you are interested in. OBTFX is offering its services to global traders and so they have put together a huge index to attract as many people as possible. You can find plenty of options to choose from and the top ones are:
Indices: If you have an interest in the stock market, but don't want to trade shares of companies, you can invest in equity indices. These indices measure the health of specific areas of the stock market or of the economy as a whole. OBTFX gives you the opportunity of trading some of the top indices in the world, including S&P500, Nikkei 225, ASX200, NASDAQ, HIS and FTSE100. They charge minimal spreads and you can decide to go short or long, as per your preference.
Commodities: If you are looking for a safe option to invest in, commodities fit the bill perfectly and OBTFX has ensured that you can have access to a wide range of commodities to trade. You can trade some of the most popular commodities like gold and crude oil, which can help you earn solid profits. The broker offers high leverage and low commissions for this purpose.
Stock: One of the oldest financial markets in the world, the stock market is known to provide substantial returns to investors. OBTFX has put together stocks of some of the most renowned companies in the world, such as Apple, Alibaba, Coca Cola, Amazon, eBay, Disney and more. You don't have to worry about any hidden fee when trading stocks with this broker.
Forex: Last, but certainly not the least, one of the most important markets that you can trade in via OBTFX is the currency market. The broker has added an extensive variety of forex currency pairs and charges no commission on their trading. EUR/USD, AUD/CAD, EUR/JPY, AUD/USD and NZD/CHF are just some of the currency pairs that you can trade here.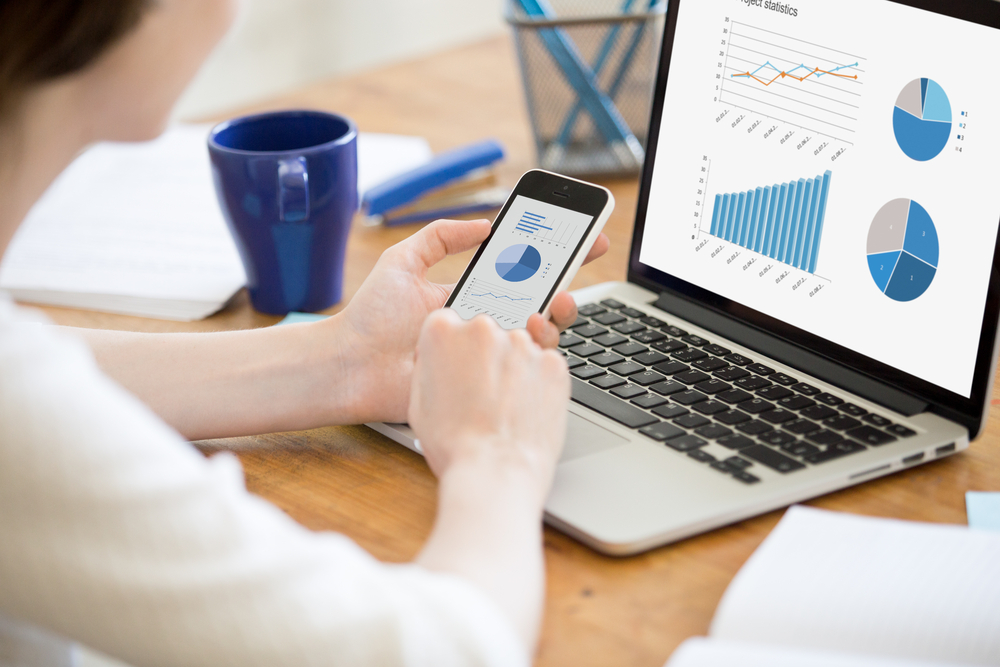 Trading Platforms at OBTFX
One of the most important features of a brokerage is the trading platforms they offer to their clients. It is the software that you use for executing your trades and if the platform gives you any problems, it can have an impact on your overall experience. Hence, you should always take a look at the broker's trading platform before you make the decision to use their services. At OBTFX, you will find several trading platforms being offered to facilitate traders from different backgrounds. This gives you the freedom to choose a platform that suits your needs and doesn't cause you much trouble. The options you have available are:
WebTrader: The first trading platform that OBTFX is offering is called the WebTrader and it is one that can be accessed directly from the broker's website. This means that you don't have to worry about downloading or installing it on your device, which eliminates a lot of complications automatically. This trading platform is designed to enable every trader to customize it according to their trading style. It boasts a range of trading indicators and drawings that can be used to make decisions. The WebTrader is fast, smooth and also provides charting functionalities that can make a big difference in the trading process.
MT4: If you don't want to use the browser-based platform, OBTFX has incorporated the leading trading platform in the market i.e. MT4. The MetaTrader 4 has become the choice of traders all over the globe because of its advanced trading signals and alerts. It is also very safe because it makes use encryption technology and also offers charting tools to its users. You can download it on your device for free and start trading right away.
MobileTrader: In today's technologically advanced world, people can use their smartphones and tablets for pretty much everything they do on their desktops and laptops. This also applies to trading. OBTFX has ensured that its clients can easily participate in mobile trading by coming up with an app that lets them access their account easily. You can download it on both iOS and Android devices and it allows you to trade on the go. The mobile app boasts an intuitive and simple interface that enables people to trade in a comfortable and quick way.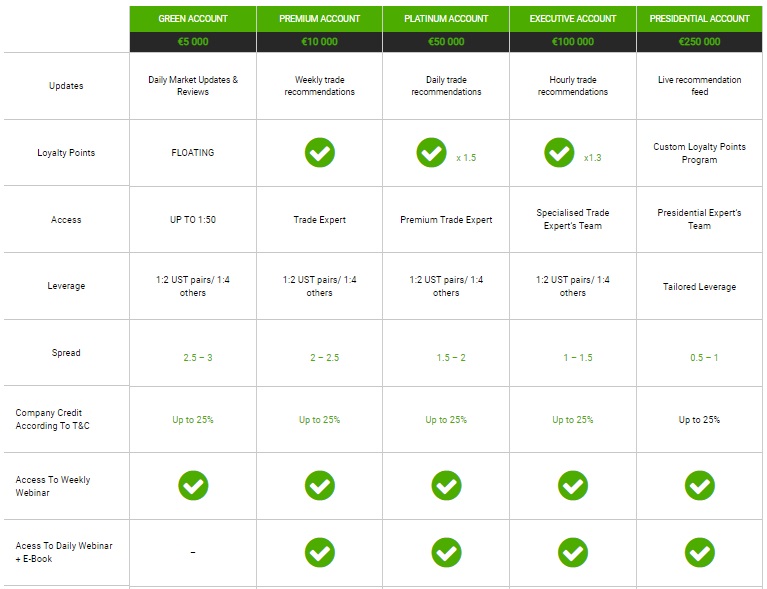 Account Options at OBTFX
After you have checked the trading platforms that OBTFX has to offer and you are thinking about opening an account with them, you need to take a look at the options they give you in this regard. Brokers are fully aware that not all traders are the same; each trader has a different style, but they are also different based on their risk tolerance and their experience and knowledge. Therefore, you will find multiple account options given by brokers, with each option meant for a different kind of trader. OBTFX has also offered its clients a range of options to choose from and you can decide the one that you are comfortable with after comparing them:
Green Account: The options at OBTFX begin with the Green account, one that has been designed for new traders and has a minimum deposit requirement of €5,000. The spreads for this account range between 2.5 and 3 pips and access is up to 1:50. It provides daily market reviews and updates and 25% company credit. You can also get access to webinars, the full academy and get a dedicated personal analyst to help you out. Once you reach a turnover of 25M, you can automatically upgrade your account.
Premium Account: The second account at OBTFX is called the Premium account, which is meant for traders with some experience. You need to deposit €10,000 to open it and the spreads are between 2 and 2.5 pips. You can access a trade expert, weekly trade recommendations and daily webinar plus Ebook. Your turnover needs to be 75M to make you eligible for an upgrade.
Platinum Account: The third account option is designed by OBTFX for intermediate traders and it can be opened with a deposit of €50,000. It comes with daily trade recommendations, loyalty points, premium trade expert and spreads between 1.5 and 2 pips. Fully academy access and analyst training are also added to the account and a turnover of 100M is needed to upgrade to the next account.
Executive Account: Skilled traders are accommodated by OBTFX with their Executive account that has a minimum deposit requirement set at €100,000. You will find hourly trade recommendations, specialized trade expert's team and spreads between 1 and 1.5 pips. You can have on-demand analyst sessions in this account and a 150M turnover can help you upgrade to the next account.
Presidential Account: OBTFX's last account option is for professional traders and is termed as the Presidential account due to its special features. Having a minimum deposit requirement of €250,000, this account has a live recommendation feed, a custom loyalty points program, tailored leverage a presidential expert's team and low spreads between 0.5 and 1 pips. It provides tailored benefits to traders for achieving their turnover milestones and gives them access to every feature of other accounts.
Apart from these account options, OBTFX also gives its clients the chance to open a swap-free account. This particular account is aimed at Muslim traders as they cannot use interest in their dealings. Hence, the swap-free account is Sharia compliant and allows them to trade easily. Moreover, OBTFX has also added the option of a demo account. It is a great feature for newbies who want to get in some practice before they trade in the live market with their actual funds. The demo account uses virtual currency and can be great for testing strategies. It also gives people the opportunity to see how their trading platforms work and if they will get the job done.
Deposits and Withdrawals at OBTFX
Now that you know what account options you are offered at OBTFX, you can choose one that works for you. In order to open an account, you will have to meet the initial deposit requirements that are set for every account type. The question is how do you add your funds? In order to do so, you have to take a look at the deposits and withdrawal policy of a broker. Not only do you need to deposit money, but you will also want to withdraw at some point after you have made profits. Therefore, it is best to know what options are available so you can do it easily and at your convenience.
OBTFX has added several types of deposit and withdrawal methods to give their clients the option of choosing one they are comfortable with. You can opt for traditional bank wire transfers if you want or use the more modern debit and credit cards. The broker supports a variety of cards, including Visa, MasterCard and Maestro. It also supports some global payment methods, such as SafeCharge that can be used for making online payments quickly. Deposits are usually processed instantly at OBTFX, but withdrawal requests taken anywhere between 3 and 5 working days to be completed.
Resources at OBTFX
When you begin trading, you don't just rely on your existing knowledge and your guts for making trades. There are a great deal of resources that are used by professional traders out there to make the kind of returns they do. If you also hope to replicate their success, you need to follow the same path. OBTFX understands the importance of constantly improving and expanding your knowledge of the market and so they have created a full Academy where traders can find numerous educational resources.
These are designed to help newbies in learning the art of trading, including fundamental and technical analysis, and can also assist experienced traders in improving their existing strategies and keeping up with market trends. Along with educational resources, OBTFX also gives its clients access to the latest market news that can help them in making timely decisions. Similarly, the broker has also added an Economic Calendar that highlights important and prominent events that can have an impact on the market. You can also check live prices and set price alerts in order to take advantage of any movements.
Security Measures at OBTFX
No matter how good a broker is, whether they provide an extensive number of instruments, great trading tools and very low trading fee, you shouldn't ignore their security measures. After all, you will be sharing your private information with the broker and also give them access to your funds. You wouldn't want to compromise on their security, would you? OBTFX understands that tough security measures are needed for protecting their clients' funds and data, particularly with the increasing number of cyber breaches.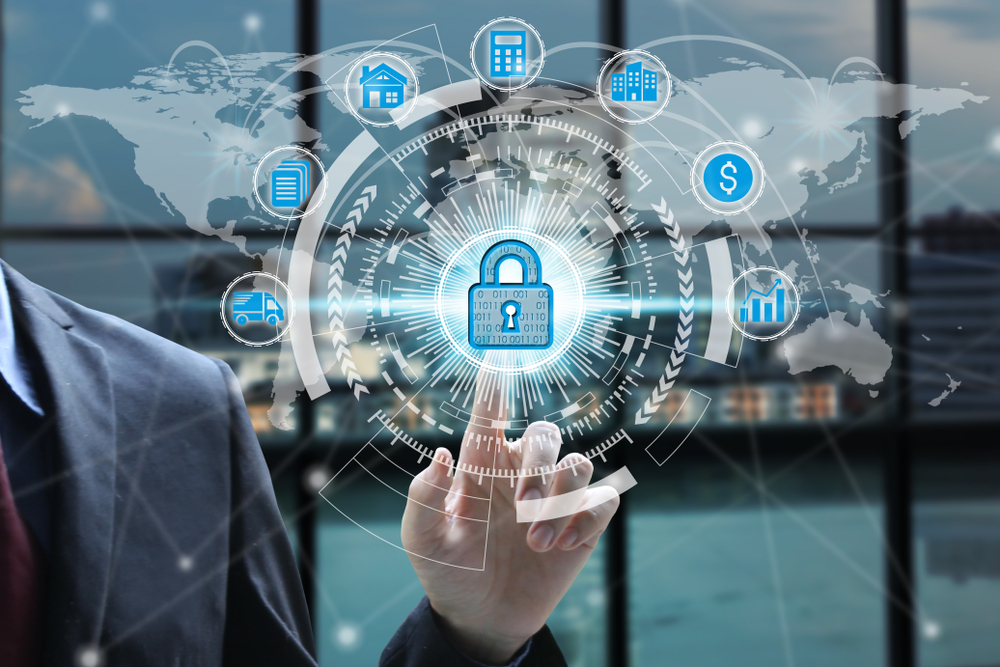 The broker has implemented the KYC (Know Your Customer) and AML (Anti-Money Laundering) policies for adding a layer of security to their platform. As per these policies, traders are required to submit important documents with OBTFX before they can use their account. You have to submit a copy of your passport, a recent utility bill in your name, a picture of your credit card, both front and back with CVV hidden and a purchase history of your online transactions. With these documents, the broker confirms your identity and verifies your address because they don't want shady profiles on their platform.
Along with these measures, OBTFX has also maintained complete account segregation for the safety of your funds. No one is allowed access to them and you remain in full control of the money you deposit with the broker. In addition, the broker's own accounts are kept separate and they don't use the customers' funds for making any of their payments. Investment-grade banks are used for storing the money as part of the security protocols and sufficient liquid capital is retained by the broker for covering deposits and outstanding expenses. Finally, OBTFX has also implemented 256-bit SSL encryption for protecting all the data that's entrusted to them by their clients. This can keep it safe from hackers and other cybercriminals and reduce the risk of identity theft.
Leverage and Pricing at OBTFX
Perhaps, one of the most crucial aspects of a broker is the leverage they offer and the fees they charge for their services. If the costs are too high, you will end up sharing most of your profits with the broker, something that can be extremely demotivating. OBTFX understands the frustration traders feel when they have to pay hefty trading costs and so they have chosen to follow and 80-20 model when it comes to profit-sharing. The broker does not charge any commission from its clients, which can help keep trading expenses under control.
You don't need to be concerned about any hidden fee either, as the broker is quite upfront about their charges. They use spreads for making their profits and even then, they are offering the lowest and tightest spreads across the market. Such low trading costs can certainly incentivize people to trade more in order to get closer to their trading goals. Leverage is also an important part of trading because it allows you to open bigger positions than you would otherwise.
Understanding its role, OBTFX has provided its clients with as much leverage as possible. It starts at 1:10 and goes as high as 1:200, depending on what instrument you wish to trade. But, it should be noted that while leverage can magnify your profits, it can also do the same to your losses so it should be used with caution.
Customer Support at OBTFX
You have probably heard that customer service can make or break a business. The same rules also applies to a brokerage because if traders are unable to get assistance when they need it, they are highly likely to go elsewhere. Considering the number of brokers in the market, people are certainly not short on choices. OBTFX is committed to providing its clients a wholesome trading experience and so they have not made any compromises on customer support. Firstly, they have created an FAQ section for their clients where answers to various questions can be found.
If you are unable to find a solution in the FAQ section, you can get in touch with their representatives. This can be done through email or phone, both of which are provided on the website under the Contact Us option. The broker also has an online form that you can fill out and send to them for getting a response to your query.
Final Thoughts
Whether it is tools and resources, trading platform, the trading instruments or customer support, OBTFX doesn't disappoint its clients in any regard. The broker has put in time and effort into creating a trustworthy trading solution that people can use for seamless trading in the market.
Summary
Reviewer
Review Date
Reviewed Platform
Author Rating