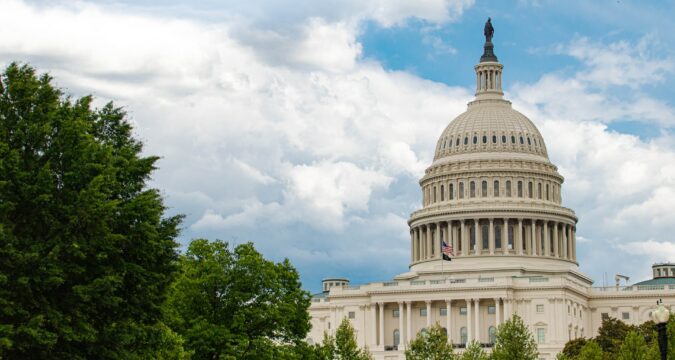 The United States Congress is set to review two bills concerning a central bank digital currency (CBDC), also known as the digital dollar.
Congressman Patrick McHenry announced that the U.S. House Financial Services Committee would review two bills related to a potential central bank digital currency (CBDC) on September 20.
The first bill, the Digital Dollar Pilot Prevention Act — H.R. 3712 — introduced by Representative Alex Mooney in May in response to the potential introduction of a CBDC in the U.S., seeks to prevent the Federal Reserve from initiating CBDC pilot programs without congressional approval. 
After agreeing to only decide on CBDC issuance with proper authorization by law, the Fed recently recruited a set of technical staff for a CBDC project, which brought about the Digital Dollar Pilot Prevention Act.
The second bill proposes an amendment to the Fed Act, restricting Fed banks from directly offering certain products or services to individuals. It restricts the use of CBDCs in monetary policy and contains other restraints in the application of such digital dollar.
The bill further seeks to establish clearly defined boundaries and restrictions that will govern the deployment and use of a CBDC in the United States.
"A Federal Reserve Bank shall not offer a central bank digital currency or any digital asset that is substantially similar under any other name or label, indirectly to an individual through a financial institution or other intermediary," the bill stated.
Arguments on the Digital Dollar
The U.S congress has held several discussions on the digital dollar, many of which have turned to arguments. The Democrats have always been in support of a digital dollar, but the Republicans have mostly kicked against it.
A similar argument came up on the floor of the congress last week, where Republican Congressman Rep. French Hill maintained that congress isn't in support of a CBDC.
"Let me be unequivocally clear here for this audience: there is no support for a CBDC in Congress, except from those on the fringes who think somehow a CBDC might be an amazing solution to many unstated global problems," Hill said in his opening remarks during a House Financial Services subcommittee hearing.
Democrat congressman Rep. Wiley Nickel however is of the opinion that the U.S needs a digital dollar to stay ahead as the financial lead in the world.
"The United States must remain the global financial leader, especially with the dollar's role as the global reserve currency," Nickel said. "We can't afford to fall behind or lose our global influence."
Some of the concerns around CBDC include the invasion of privacy and use of the technology for total financial control over the citizens.