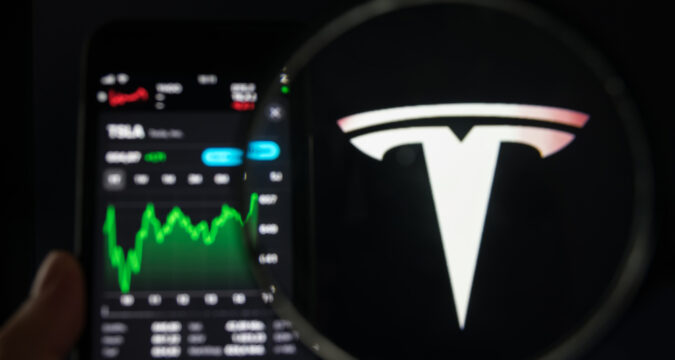 As this trading week enters its last hours to trade before the market goes to rest for two days, some experts have set high hopes for Tesla stock (NASADQ:TSLA).
Experts at Wells Fargo have claimed that in the coming few weeks the price of Tesla stock can go high.
The stock can reach to new level of $190 from its current price of $150. If this happens this would be the first time that the company's stock will experience a rise of the of$40 mark.
Wells Fargo has recently conducted a thorough analysis of Tesla, a renowned electric vehicle manufacturer.
Experts have told investors that big things can be accepted by Tesla as the company's investors' day is approaching fast.
Most probably the demand for Tesla's products will be discussed with investors. The company will also focus on its delivery growth.
Investors Seem Hopeful for Upcoming Investors Day
Tesla is likely to discuss its long-term plan with investors.
Experts also argued that the company will discuss how to attract more investment and how to allocate it to support its Gen-3 platform.
Most recently Tesla dropped the prices of its products which has increased the demand for Tesla's products.
As a result of high demand company currently has a pressure of ensuring that products are delivered on time.
Tesla is hoping that its Gen 3 platform will uphold the expected 50% delivery CAGR. It has been expected that these third-generation vehicles will be available at $30k.
As the result, Tesla will cover 95% demand in the EV market. As compared to ICE, a $30K EV is more profitable for the company.
And it is expected that a $30K EV will drive more sales and also give momentum to Tesla's stock.
Talking of the time, this is the perfect time for Tesla to launch its vehicles and hit the market.
Moreover, investors should wait for the upcoming investors meeting before investing in the company's shares.
Despite the fact that the company's share saw a decline of 4% in its price, but company's indicators are strong and the future is bright.
Domino's Stock Edge Closer to Slip
On Friday, experts opened up about Domino's Pizza (NYSE:DPZ) and downplayed all the rumors talking about the price increase.
Furthermore, experts have also downgraded the company's ranking. Domino's quarterly earnings missed market expectations in terms of revenue.
Despite making record sales, the company's revenue was lower than expected. Analysts have also adjusted the company's share price and its EPS.
As of this writing, some of the world's top analysts have already disregarded DPZ from buy to neutral.
Experts have also said that soon the price of Domino's shares will drop to $316 from its current price of $429.
This would be the highest drop in the company's share price for over a year.
Experts have argued that the company needs to change its operational mechanism in order to cut down its manufacturing cost.
Despite the fact that Domino's have the potential to outperform its competitors in the pizza category, in terms of competing in a broader food range Domino's is not even in the top ten.
The path of recovery for Domino's pizza is hard but not impossible. If the company initiated a change in its operational model today, it will almost a year to sit among the top names.
Elsewhere, Baird in its prediction has also tipped Domino's stock as neutral.
Moreover, Baird also adjusted the company's share price and thinks that its future price will be $320.
Experts unanimously agreed that the company's Q4 report is far from convincing. The company's top-line growth is immensely steady.
By the end of today's trading session, the price of Domino's shares was down by 11%. Experts have predicted a further decline in the price.
Experts have also told that those investors who still hold Domino's shares need to sell them otherwise they will suffer more financial losses.
Right now, Domino's is not on the right stock to purchase, too many red flags have surrounded the stock.