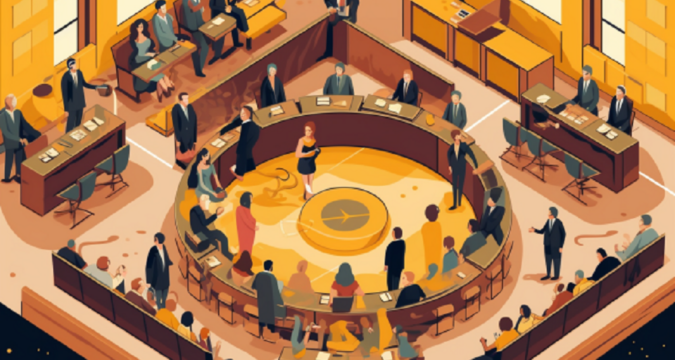 Crypto giant Binance has filed a motion in court accusing the US securities and exchange commission (SEC) of making misleading statements. Lawyers representing Binance US and Binance CEO Changpeng Zhao said the agency has misled the public in its pronouncements concerning an ongoing securities lawsuit.
Recall there is an ongoing lawsuit involving Binance, Binance US and Binance CEO Changpeng Zhao in the US. The SEC had few weeks ago filed the case, alleging that Binance violated securities laws and put customer funds at risk. The SEC specifically accused Binance of moving its customers' funds overseas.
Concerning this, Gurbir Grewal, SEC director of enforcement had made a public statement and Binance's legal team is asking that the agency comply with "applicable rules of conduct." Grewal had said Binance could "commingle customer assets or divert customer assets as they please".
"The SEC has no evidence that BAM [Binance.US] customer assets have been dissipated, commingled or misused in any way. The SEC's press release also appears to be designed to introduce unwarranted confusion into the marketplace, which could have the effect of harming BAM customers rather than protecting them. It also risks tainting the jury pool with misleading descriptions of the evidence concerning the defendants," the filing stated.
What the Motion Means
Binance's motion to call the SEC to order has been filed and is awaiting approval by the judge. If approved, the court will restrain the SEC from making certain public statements on the case while it lasts in court. According to the legal team, such statements "may materially impact court proceedings."
As evidence, the team has also provided part of the transcript a hearing on June 13 in which the SEC counsel admitted that there was no evidence that Binance was transferring customers' funds overseas. This is one of the first serious motions ever filed by binance's legal team in the case that has lasted weeks.
Progress for Binance
Until now, the SEC appeared to be winning the case against Binance. However with this new filing, the Binance team may be sending a message to the SEC that it isn't taking the case lightly. Much earlier in the case, another judge had cautioned the SEC concerning its enforcement approach to regulation, saying it was "cumbersome".
If the judge approves this filing, the SEC will indeed see that things can go south if it doesn't watch its steps as the hearing progresses. The agency's crackdown has also been criticized in the crypto space in general and now by a judge.
Many have argued that this case isn't only about Binance, but the entire crypto industry. Its outcome will determine if crypto wins or loses in the US where a large chunk of the global crypto market is located.