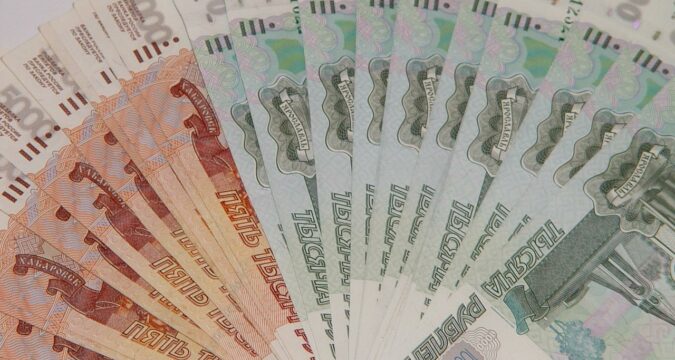 On Monday, the trading price of the Russian rouble moved higher against the US dollar. Following the increase, the trading value of the rouble has hit recent highs versus the dollar.
Rouble Price Firms against the Dollar
Last week, the trading value of the rouble reached a higher level at 60 versus the dollar. However, its value ended up experiencing a slight dip as the US stock markets gained momentum.
Fortunately for the investors, the Russian has picked up momentum in the running week as well. In the Monday trading session, the value of the rouble has come close to hitting the same level as the last week.
Even now, the value of the rouble is holding firmly near the high trading level of 60. The dollar does not seem to be doing well against the rouble as it keeps gaining momentum with every passing week.
The new Tax Period is near
The major reason why the trading price of the rouble keeps moving higher is the new tax period. As the new tax period is nearing, investors are eager to accumulate as many roubles as possible.
The investors are aiming to do it before the new tax period starts and the major investments are coming in from the domestic exporters. Therefore, the price of the rouble is not giving up momentum.
Until the new tax period has been initiated, the local exporters would aggressively continue accumulating roubles. As the domestic exporters lose their buying power, the rouble may start losing its value.
That would become an opportunity for the USD investors to launch their attack and bring the rouble's value down.
Rouble Price Actions and Predictions
In the latest trading session, the value of the rouble has surged 0.45% versus the dollar. It is currently trading at 60.27 versus the greenback. As for the euro, the trading value of the rouble is at 62.18.
According to market experts and forex analysts, the value of the rouble may not lose its momentum in the running week. Its value may continue floating between the range of 60 and 62 roubles vs. the USD.
As more and more predictions keep coming in, the majority of them indicate that the analysts side with the 60 mark for this week's end.
Why the Aggression among the Domestic Exporters
Throughout the year, the exporters keep dealing in the USD and other foreign currencies. However, as the tax period approaches, they have to pay domestic liabilities.
This is when they have to have as many roubles in their accounts as possible to settle the domestic liabilities. This in turn provides strong support to the local currency versus the international currencies.